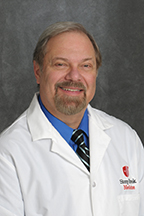 February 10, 2015 - Nearly two decades after graduating from the department's psychiatry residency program, Mark Lerman, DO, MPS has returned to Stony Brook to lead a team on the adult inpatient service and to serve as the Medical Director of Quality Assurance for Psychiatry. Dr. Lerman spent the past four years at Nassau University Medical Center, where he was Director of Inpatient Services and, most recently, Director of Continuing Medical Education. He has spent the majority of his career treating people with severe mental illness in psychiatric safety net programs — at the Pederson-Krag Center, Pilgrim State Hospital and Kingsboro Psychiatric Center, where he was Director of Clinical Services.
Dr. Lerman has been extensively trained in Rational Emotive Behavioral Therapy. He completed several practicums at the Albert Ellis Institute, culminating in a supervisor's certificate. Like Dr. Ioannou, Clinical Director of Inpatient Psychiatry and Director of the department's residency training program, Dr. Lerman is committed to nurturing the psychotherapy component in the department's training programs. "I have an interest and expertise in evidence-based cognitive behavioral approaches," Dr. Lerman said. "I want the residents to see CBT in use in inpatient and outpatient settings. We combine psychotherapy with medications. One augments the other."
As the department's Medical Director of Quality Assurance, Dr. Lerman will oversee the department's quality assurance and quality improvement programs. His primary role, however, will be that of a clinical educator. "Stony Brook has always been an excellent place to train," Dr. Lerman said. "I humbly hope I can help preserve the tradition."