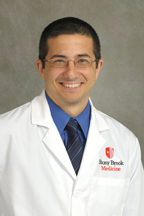 November 10, 2014 – Assistant Professor Paul Mitrani, MD, PhD has been named Director of the Child and Adolescent Outpatient Psychiatry service and Director of Child and Adolescent Consultation and Liaison. In announcing the appointment, department chair Ramin Parsey, MD, PhD described Dr. Mitrani as "an excellent teacher and communicator who has the clinical and organizational skills to help us meet the ever increasing demand for child psychiatry services."

In his new role, Dr. Mitrani will direct the Child and Adolescent Outpatient clinic, consult on pediatric cases, provide outpatient psychiatric evaluations and treatments, and supervise residents. "There is a growing demand for psychiatric specialists to see pediatric patients," Dr. Mitrani said. "I look forward to expanding our treatment services and improving our relationships with pediatricians, both here and in the community." In the near term, Dr. Mitrani hopes to add additional treatment staff, develop specialty groups and establish a system for crisis appointments. "Our aim is to get children and adolescents into the appropriate care more quickly," he said. In the longer term, he envisions the clinic being involved in translational research, including the presence of psychiatric disorders in the context of pediatric diseases, autism and other developmental disorders.

Dr. Mitrani, who grew up in Stony Brook, earned his bachelor degree in Biochemistry, Psychobiology and Philosophy from SUNY Binghamton. He received an MD/PhD at SUNY Buffalo, completing his doctoral dissertation in Biochemistry with a focus on metabolic programming. He moved on to complete the triple board residency program at the Icahn School of Medicine at Mount Sinai before coming to Stony Brook to join the department's Consultation and Liaison Service.

Dr. Mitrani will take over responsibility for the clinic from Judith Crowell, MD, who has been servicing as interim director, soon after the turn of the year when a replacement arrives to fill his role on the adult Consultation and Liaison service.