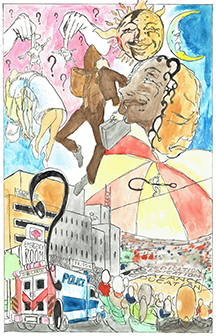 November 24, 2014 – An illustration by comic book artist Andrew Moran was featured on the cover of this year's Mental Illness Awareness Week brochure. Mr. Moran is a participant in the Department's Continuing Day Treatment Program. His artwork was selected following a county-wide competition sponsored by the Association for Mental Health and Wellness. He was recognized and awarded a cash prize at the kick-off event at the Huntington Hilton on October 7, 2014. "It was awesome," Mr. Moran said. "I used the prize to buy a laptop so I could work with digital color."

Mr. Moran heard about the contest when Recreational Therapist Raymond Archer handed him an announcement which called for artists to submit a design answering four questions about mental illness. Mr. Moran's work, which he sketched in pencil and finished with ink and water color, is comprised of four separate but integrated scenes. "I tried to include what I learned from my program mates," Mr. Moran said. His drawing includes representations of children being taken from their parents, the effects of weather and time of day on mood, the stigma attached to mental illness ("For many people, going to a mental ward is equivalent to going to jail," Mr. Moran said.) and the ambiguities associated with seeking help. The central figure is a person on a tightrope using a question mark as a balance beam. "There are question marks in all four scenes," Mr. Moran pointed out.

Mr. Moran has an associate's degree from Suffolk community college and studied animation at the School of Visual Arts in New York City. Earlier this year, Mr. Moran illustrated a comic book titled The Creation which was published by Manhattan-based Pronto Comics.
"Everyone in the department is very proud of him," Mr. Archer said.