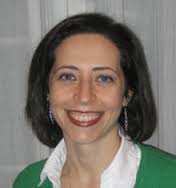 February 11, 2014 - A research study by Research Assistant Professor Doreen Olvet, PhD and colleagues suggests that abnormalities in a specific part of the brain are associated with past suicidal behavior among people with major depressive disorders. These findings are significant because if replicated in larger studies, they might provide clinicians with new techniques for identifying the risk of suicide and intervening to prevent it. More than 30,000 people in the United States die each year as the result of suicide.

Dr. Olvet and colleagues used diffusion tensor imaging (DTI) to identify white matter tracts in the brain that may be altered in people who have attempted suicide. They compared the results of imaging studies of 13 people with major depressive disorders who had attempted suicide to data obtained from 39 people with major depressive disorders who had never attempted suicide and 46 healthy volunteers with no history of suicide or depression. Focusing on regions of the brain that previous research has associated with suicide, the researchers found that fractional anisotropy values obtained from scans of white matter in the dorsomedial prefrontal cortex of suicide attempters were significantly lower than those obtained from the comparison groups. A lower anisotropy value in white matter suggests that connections between regions of the brain may be disrupted.

The location of the abnormality is important because this region of the brain has been implicated in the negative self-awareness that often precedes suicide. The authors suggest that their findings may inform clinical treatment options. "Cognitive therapy that focuses on self-awareness, such as Mindfulness-Based Cognitive Therapy, could potentially reduce the amount of self-focus at the height of the suicidal thoughts buying clinicians time to intervene," they said.

The results of their study were presented in a paper titled "A diffusion tensor imaging study of suicide attempters" published in the Journal of Psychiatric Research available online on January 16, 2014. Dr. Olvet of Stony Brook University and Denis Peruzzo, PhD of the University of Verona, Italy were co-authors of the paper. Department Chair Ramin Parsey, MD, PhD designed the study. Dr. Olvet, who received her doctorate in Biopsychology from Stony Brook University, is an American Foundation for Suicide Prevention Post-Doctoral Research Fellow.