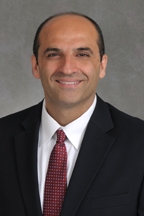 July 8, 2014 - Ramin Parsey, MD, PhD, Chair of the Department of Psychiatry at Stony Brook University, co-chaired a symposium at the 29th World Congress of Neuropsychopharmacology sponsored by the International College of Neuropsychopharmacology in Vancouver, Canada on June 25, 2014. At the symposium, Dr. Parsey presented an overview of the role of brain serotonin 1A receptor binding in major depressive disorder.

Serotonin 1A is known to be a factor in depressive disorders. In previous studies, Dr. Parsey and his colleague used PET imaging to demonstrate that serotonin 1A receptor binding was higher in people with a major depressive disorder during a depressive episode and that serotonin 1A binding potential makes a difference in patients' response to some forms of treatment for depression. In his presentation in Vancouver, Dr. Parsey reported on a recent study showing that patients who responded to treatment with escitalopram, a selective serotonin reuptake inhibitor, had 33% higher baseline serotonin 1A binding in the raphe nuclei than patients whose depression was not relieved by escitalopram. This finding is important because it may enable doctors to predict in advance which patients are likely to respond to an 8-week trial of escitalopram or similar drugs. At present, they can only prescribe medication and wait two months to see if the patient's depression is relieved.

Paul Albert, PhD, Professor and Senior Scientist at the Ottawa Hospital Research Institute, who chaired the symposium, said that "Dr. Parsey's findings of an increase in serotonin-1A binding levels in the raphe, the key site of the brain's serotonin production, provide a promising biomarker for major depression and may also predict response to antidepressant treatment.