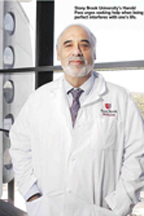 November 1, 2013 – Twice during the past week Harold Pass, PhD was quoted extensively as an expert in the popular press, once in an article on bullying distributed nationally and internationally by the Associated Press and once in a Newsday Health article about perfectionism.

The Associated Press article titled "Bullies: They're not just in middle school" by Beth Harpaz examined the extended use and overuse of the term "bully" in sports, politics and the workplace. She quoted Dr. Pass with regard to bullying in the workplace, which Dr. Pass said is quite common. "Any place there's a power differential, where someone puts other people down, where it's done willfully, not randomly or unconsciously, that could be bullying," Dr. Pass is quoted as saying. The article was published by NPR, ABC News, the Christian Science Monitor and other major news outlets.

The Newsday article by Denise Mann titled "Perfection Hurts" listed seven things that people should know about perfectionism, first among them a piece of advice from Dr. Pass: "When you can't finish tasks and everything you do makes you feel badly, or you procrastinate for long periods of time because you are afraid to fail, get professional help." Perfectionism, Dr. Pass said, can be a healthy trait, but when it interferes with quality of life it becomes a symptom requiring professional evaluation. The article was accompanied by a large image of Dr. Pass.