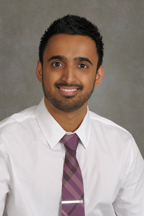 Chief Resident Rachit Patel, MD has been accepted into the American Association for Geriatric Psychiatry (AAGP) 2014 Scholars Program. He will attend the AAGP annual meeting and mentoring lunch in Orlando, FL March 14 – 17 as a guest of the Geriatric Mental Health Foundation Scholars Fund, which was established to increase the number of medical professionals trained in geriatrics by exposing young physicians to the field.

In a letter of recommendation, Lory Bright-Long, MD, Director of the department's Geriatric Fellowship program, described Dr. Patel as a psychiatrist the AAGP would be proud to have as a member because of his scholarship and leadership skills. She noted his keen interest in the care of aging patients with developmental disabilities, an area she said is begging for attention from both a clinical and a research perspective. Dr. Patel is currently working on a project to improve the quality of psychiatric care to elderly people with developmental disabilities.

Another mentor, Alan Steinberg, MD said that Dr. Patel is in a position to make significant contributions to the field of geriatric psychiatry because of his keen intellect, commitment to work and enthusiasm for the field. "Occasionally a resident physician enters out world and impacts our life in a most exceptional way," Dr. Steinberg said. "Indeed Dr. Patel is one such physician."

Dr. Patel looks forward to using what he learns to make improvements in the care of geriatric patients. "By participating in the Scholars Program, I hope to learn more about the systemic processes that affect the delivery of geriatric healthcare so that I can bring this information back to Stony Brook," he said.