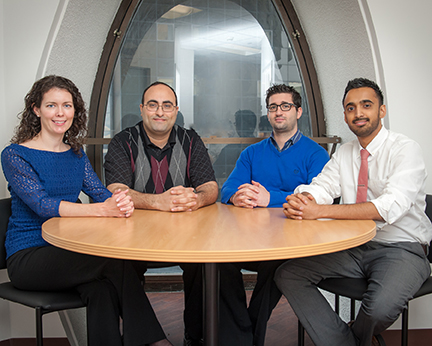 Patricia Fertig, DO; Malak Iskandar, DO; Benjamin DeLucia, MD; Rachit Patel, MD

May 8, 2014 - Four psychiatry residents presented posters at the 167th annual meeting of the American Psychiatric Association (APA) in New York, NY May 3 – 7, 2014.

Chief Resident Rachit Patel, MD and fourth-year resident Patricia Fertig, DO presented a poster titled "Neuromyelitis Optica Presenting with Psychiatric Symptoms and Catatonia: A Case Report" in which they described the case of a young woman with a history of neuromyelitis optica (NMO) who presented with symptoms of psychosis and catatonia. NMO is a disease of the central nervous system only recently differentiated from multiple sclerosis. This was only the second reported case of a patient with NMO presenting with psychiatric symptoms, and the first documented case of a patient with NMO presenting with catatonia. Although the patient received standard treatment for catatonia and psychosis, improvement was slow, suggesting that the presence of NMO may impede the efficacy of the medications.

Dr. Patel also presented a poster on "The Mental Experience of Catatonia: A Case Report and Literature Review" in which he discussed the case of a patient who was brought to CPEP and admitted to 10 North with classic symptoms of catatonia: mutism, immobility, withdrawal and negativism, among others.
 Most of his symptoms were successfully relieved within days with Lorazepam, except his mutism, which lasted for weeks. After recovering his speech, the patient completed a questionnaire about his mental experience, reporting elevated levels of fear and anxiety, which is consistent with previously published reports. His responses suggested that mental experiences during catatonia are nuanced, and consistent with psychological models of fear response.

Third-year resident Benjamin DeLucia, MD presented a poster titled "Stability of CPK during ECT with Polymyositis: Case Report and Literature Review." Dr. DeLucia reported on the case of an elderly woman with chronic, recurrent depression and polymyositis, a rare inflammatory disease which causes muscle weakness and problems with motor control. The woman was successfully treated with inpatient and outpatient ECT 37 times over the course of 4 years. The case is unique because of the extensive data collected on pre- and post-treatment levels of creatine phosphokinase (CPK), an enzyme which serves as a marker for polymyositis. Dr. DeLucia concluded that although CPK levels were typically higher after ECT than before, ECT did not exacerbate symptoms, suggesting that ECT can be safe and effective for patients with inflammatory muscle disease. The poster was presented at the annual meeting of the International Society for ECT and Neurostimulation as well as at the APA.

Third year resident Malak Iskandar, DO, presented "Two Cases of Catatonia with Thyroid Dysfunction: Literature Review & Case Reports." He reported on three episodes of catatonia in patients with thyroid disease, two of which were successfully treated with Lorazepam and the other with ECT. These cases lend support to the theory that there is an association between catatonia and metabolic disease, although the exact mechanisms are not known. Dr. Iskandar concluded that catatonia may occur in hyper-thyroid and hypo-thyroid states and may respond to Lorazepam. He suggested that thyroid studies should be considered in cases of new onset catatonia.

Al Alam, MD, Director of the CPEP, advised Drs. Patel and Fertig on the presentation of the case of the woman with neuromyelitis Optica and catatonia. They were assisted by Medical Student Briana Locicero, BA. Andrew Francis, MD, PhD mentored the residents on the other three presentations. He and Dr. Patel presented a version of the report on the mental experience of catatonia in February at a grand rounds at the Nassau University Medical Center. Adeeb Yacoub MD also served as a mentor to the residents on the case of the patient with polymyositis whose CPK levels stayed stable throughout an extended course of ECT.