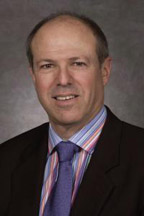 Residency Training Director Michael Schwartz, MD has been selected by the American Psychiatric Association (APA) to receive the annual Irma Bland Award for Excellence in Teaching Residents. The award is presented to APA members who have made "outstanding and sustaining contributions to resident education in psychiatry."

Dr. Schwartz has been the department's Director of Residency Training since 1997 and was Director of Medical Student Education in Psychiatry from 1997 to 2002. He came to the Department of Psychiatry and Behavioral Science in 1983 from the National Institute on Aging where he published several of the early reports on the use of PET scanning to study aging, Alzheimer's disease and Down Syndrome. He was recognized by the Department of Psychiatry as Teacher of the Year on two occasions.

In her letter of nomination, Professor Laura Fochtmann, MD said that for more than a decade Dr. Schwartz has been an outstanding leader in the education of the department's residents. Citing the many lectures and seminars he delivers, his monthly leadership of clinical case conferences, his individualized supervision of residents and his coordination of the residents' weekly journal club, Dr. Fochtmann commended Dr. Schwartz's "thoughtful and scholarly approach to clinical care and education."

The award will be announced at the annual meeting of the APA in May. It is named for Irma J. Bland, a psychiatrist and psychoanalyst who was an authority on the role of culture and diversity in psychiatry practice and education.