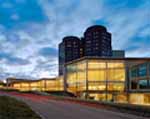 March 21, 2014 – Seven members of the Department of Psychiatry faculty and staff were recognized for their combined 195 years of service to the university at a ceremony on February 11, 2014.

Harold Pass, PhD was honored for his 35 years of service. Dr. Pass was recruited by Dr. Stanley Yolles in 1979 to be the first Chief of Psychology for University Hospital and first clinical psychologist on the faculty.

Michael Greenberg, ACSW and Lawrence Morin, PhD were recognized for 30 years of service. Mr. Greenberg is the social worker for the outpatient child and adolescent service and the Cody Center. Dr. Morin is a leading expert on circadian rhythms. He came to Stony Brook in 1984 to join the faculty of the Long Island Research Institute.

Valery Beran, RN, a nurse on acute psychiatry; Laura Fochtmann, MD, MBI and Andrew Francis, MD, PhD, both attending physicians; and Dmitry Goldgaber, a leading expert on Alzheimer's disease; were honored for their 25 years of service.

At the ceremony, President Samuel L Stanley, Jr., MD expressed his appreciation for the important contributions the 305 honorees have made to the university during the past 40 years.