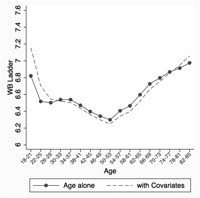 May 22, 2013

The latest edition of the on-line journal Consumer Reports on Health features the results of a study conducted by Distinguished Professor Arthur A Stone, PhD and colleagues.

In a front-page article on "5 good things about aging" the Consumer Reports editors reference the results of research conducted by Dr. Stone and colleagues showing that negative emotions — stress, worry, anger — decline as people get older while their sense of well-being increases. The research findings were originally published in the Proceedings of the National Academy of Sciences under the title "A snapshot of the age distribution of psychological well-being in the United States." The study was based on a telephone survey of 340,847 people conducted by the Gallup organization.

Dr. Stone is one of the world's leading experts on the assessment of subjective well-being. He has been a senior scientist at Gallup since 2005.