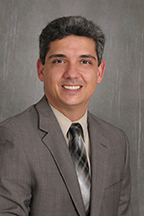 April 14, 2014 – Department Chairman Ramin Parsey, MD, PhD appointed Michael Talento, CPA to be the Department of Psychiatry Administrator, effective April 7, 2014. For the past six years, Mr. Talento was the Controller of the Long Island Home, which is comprised of South Oaks Hospital and Broadlawn Manor Nursing Center. In his new role, Mr. Talento will be responsible for all administrative and financial functions within the Department of Psychiatry.

Mr. Talento's professional career had been one of continuous advancement. After working his way through college at Long Island University at Southampton, Mr. Talento took a position as a staff accountant in the New York accounting firm Loeb & Troper. His clients included some of the leading not-for-profit organizations in the region. In 1996, he joined the staff of St. Johnland Nursing Center in Kings Park, where he rose to the position of Director of Finance. While at St. Johnland, he returned to school, earning a master's degree in Health Care Administration from LIU Post.

In 2008 Mr. Talento accepted a position as Controller of South Oaks Hospital and Broadlawn Manor Nursing Center. At South Oaks, he gained experience in hospital administration, managing the Finance Department and Business Office. Like his predecessor, Kristie Golden, PhD, he described his move from South Oaks to Stony Brook as "a leap of faith." "I have always had responsibility for presenting accurate numbers," he explained, "but now my responsibilities will include all aspects of administration." He has no doubts that he will succeed, however. "With Dr. Parsey and Kristie Golden as mentors, I will have excellent guidance and support."

In announcing Mr. Talento's appointment Dr. Parsey looked forward to a bright future for the department. "I am confident that Mr. Talento's long-standing commitment to helping people in need, coupled with his considerable skills in finance and administration, will help bring the department to new heights," Dr. Parsey said.