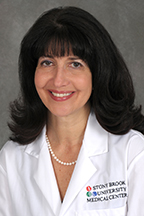 November 17, 2014 - Deborah Weisbrot, MD had a busy month. She chaired and presented at a symposium on neurologic and psychiatric differential diagnosis at the 61st annual meeting of the American Academy of Child and Adolescent Psychiatry (AACAP); presented a poster with Gabrielle Carlson, MD at AACAP on school shootings; facilitated a Clinical Perspectives session on psychiatrists' role in assessing the risk of school violence; and participated in AACAP's Physically Ill Child Committee. On the local level, she presented on the subject of childhood trauma at the James E. Allen Superintendent's Day.

Dr. Weisbrot's presentation on differential diagnosis, entitled "Pseudosymptoms" and "Pseudo-pseudosymptoms"-Did You Miss the Diagnosis?", made use of materials from her recently published book Neurologic Differential Diagnosis. Her presentation addressed the common challenges faced by child and adolescent psychiatrists when attempting to distinguish psychiatric from neurologic etiologies of a patient's symptoms and provided practical guidance for arriving at the correct diagnosis.

The poster on school shootings with Dr. Carlson refuted exaggerated statements made by the news media about the frequency of school shootings in recent years. The authors' search of reliable sources identified 88 shootings that occurred in schools in the United States since January 2009 far fewer than reported in the popular press. Of the 88, 13 were rampage shootings and 9 additional events had the potential to become rampage killings. The remaining 66 were related to gang violence, disputes, suicides or accidents.

In a Clinical Perspectives session, Dr. Weisbrot participated in a panel discussion of the child and adolescent psychiatrist's role in determining the safety of allowing students who threaten violence to return to school. In 2008, Dr. Weisbrot's paper on assessing threatening behaviors in childhood and adolescence was published in the Journal of the American Academy of Child and Adolescent Psychiatry.

Dr. Weisbrot also participated in AACAP's Physically Ill Child Committee of which she has been a longstanding member. The Committee is currently involved in an updated survey of all child psychiatry consultation liaison divisions across the country, in order to develop a sense of how these programs are functioning. She was appointed the representative to AACAP's "Back to Project Future" initiative. Back to Project Future will plan priorities and action steps for AACAP in the areas of Service/Clinical Practice, Training and Workforce, and Research.

Closer to home, Dr. Weisbrot has been engaged in enriching the educational experience for school personnel on topics related to child psychiatry. On James E. Allen's Superintendent's Day, she spoke before an assembly of teachers, paraprofessionals and school counselors on the topic of Childhood Trauma. The experience was particularly poignant as many attendees subsequently shared their personal reactions and experiences with Dr. Weisbrot.