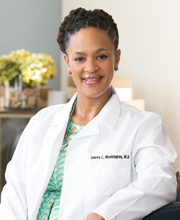 Meet Sierra, Our Director of Global Health
 
Dr. Sierra Washington has been our Director of Global Health since July 2020. Her role is to provide on-the-ground direction in Mozambique—from identifying and cultivating key clinical areas for research and collaboration, to developing administrative infrastructure that can run the program. As a fearless leader, she has dedicated her career to the world's underserved populations.
A graduate of Harvard Medical School, Dr. Washington also holds a Master's of Science in Public Health from London School of Hygiene and Tropical Medicine. She completed a residency in Obstetrics and Gynecology at the University of California San Francisco, is board-certified and is a fellow of the American College of Obstetricians and Gynecologists (FACOG).
Dr. Washington has deep experience working at the intersection of HIV and reproductive health in several countries including the U.S., Zambia, Cameroon, Kenya, Rwanda and Tanzania.