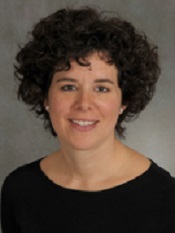 Noelle Mann, MD
Cardiology Fellowship Program Director
Why Choose Stony Brook for your Residency or Fellowship?
Welcome to the Cardiology Fellowship Program at Stony Brook Medicine.
We are very proud of our fellowship training program in cardiology at Stony Brook. Stony Brook University Medical Center is the only tertiary care hospital in Suffolk County on Long Island, an area covering 900 square miles and over 1.5 million people. We have a robust clinical, educational, and research program that has been developed over many years.
Clinically, our fellows are exposed to a high volume and wide variety of clinical cases. In addition to the many patients that come through our doors, we are also referral from most of the community hospitals on the east end of Long Island. As a result, the overall variety of pathology that we see is tremendous.
We have very active consultative cardiology, noninvasive, advanced imaging, interventional, electrophysiology, and heart failure/mechanical assist device, EP programs. Our echocardiography laboratory performs more than 14,000 echocardiograms per year. Our fellows learn to scan and interpret echocardiograms at a very detailed level. Previous fellows have been very successful in passing the Echo Board Exam. Our fellows also get a great exposure to transesophageal echocardiography (all done with 3D imaging), including interventional and intraoperative TEE. Our fellows also participate in the interventional transesophageal echocardiograms used to guide transcatheter aortic valve replacements, mitral clip, Lariat and other structural heart disease procedures.
We have an extremely busy interventional cardiology division that performs all types of advanced interventional and structural techniques including TAVR, mitral clip, Impella Left Ventricular Assist Devices, and all types of coronary and peripheral interventions. We also have a STEMI program called the "Code H" program which has successfully decreased our door to balloon time to less than the required national recommendations. The emergency department, local EMS, and surrounding community hospitals can activate this system to mobilize our cardiac catheterization lab team instantly. The fellows are an integral part of our Code H team and become proficient at radial and femoral access and performing diagnostic catheterization.
Our electrophysiology division is one of the largest and busiest in NY State. We perform all of the most advanced electrophysiology procedures including atrial fibrillation and atrial flutter ablation, VT ablation, lead extraction, ICD/pacemaker placement, and the Lariat procedure for left atrial appendage closure. Our fellows become proficient in electrophysiology consultation, ICD and pacemaker interrogation and advanced EKG interpretation.
Our heart failure and mechanical assist device program exposes fellows to a wide variety of in-patient and outpatient heart failure experience. They also participate in the mechanical assist device team evaluation process. We are the only free-standing mechanical assist device program in Suffolk County with close ties to all 3 transplant centers in New York City (Columbia, Mount Sinai, and Montefiore).
We are also very proud of the educational and extensive didactic program that we have developed for our fellows. For the first two months, the fellows are given a comprehensive lecture series on core cardiology topics. In September, our regular conference series begins. These include morning report, noninvasive cardiology conference, cardiac catheterization conference, EP core lecture, EP morning report, EKG conference, Grand Rounds and Journal Club.
Our fellows are prolific in research. Many of the fellows have presented their research at national meetings such as ACC, AHA, ASE, TCT, and HRS. To further improve our research program, we now offer several courses a year for our fellows to develop their statistical, analytic, and manuscript and grant writing skills.
As I always tell our candidates, our trainees are our best advertisement. Our graduates have gone on to other major institutions for additional training or academic faculty positions. You can learn about where our graduates have gone on our webpage.
It is my privilege to be the Program Director and I hope that you will get to learn about our Fellowship Program through this webpage. If you do have any questions about our fellowship program, please do not hesitate to contact me or our current fellows.
We look forward to reviewing your application to our program and meeting you soon!
Sincerely,
Noelle Mann, MD