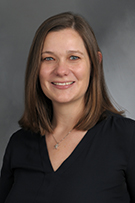 Carolyn Maxwell, MD, ECNU
Associate Professor of Medicine
Fellowship Program Director
Division of Endocrinology

I would like to thank you for visiting our program website and take this opportunity to tell you more about our program. We provide a thorough and enriching fellowship experience in a nurturing and stimulating setting. Stony Brook University Hospital is a large tertiary care hospital which provides care for over 1 million residents of Suffolk County. We have an ADA recognized diabetes center as well as a pituitary and thyroid referral center.

The strength of our program are our faculty. We have 10 very devoted faculty members who excel at teaching. Each faculty member has their own expertise and style of practicing and teaching. At Stony Brook you will be exposed to the most up to date and advanced treatment modalities including exposure to diabetes technology and thyroid sonography.

We constantly receive feedback from our graduates in practice on how well prepared they felt after graduating from our program. On our website you will find our very robust conference didactic schedule as well as details about our program. Feel free to reach out to us with any questions you may have about us.