The Stony Brook Thyroid Center
Welcome to the Stony Brook Medicine Thyroid Center, part of the Division of Endocrinology. We are pleased to share information about our clinical services, educational, and scholarly activities.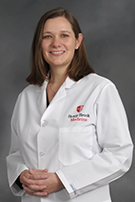 Dr. Carolyn Maxwell, Director of Stony Brook Medicine Thyroid Center
Clinical Services
Our division offers comprehensive care for a wide range of  thyroid diseases, including hypothyroidism, hyperthyroidism, Graves' disease, Hashimoto's disease, thyroid nodules, and thyroid cancer. Our team of experts in thyroid disease offer years of experience in providing up to date, evidence-based treatment.
Highlighted Services include:
Comprehensive clinical and laboratory testing for thyroid dysfunction
Imaging Services

In-office, real-time ultrasound assessment of thyroid nodules performed directly by the physician, allowing for precise and timely analysis.  Our physicians are skilled sonographers who have earned distinct training in neck ultrasound (Endocrine Certification in Neck Ultrasound, ECNU). 
Fine needle aspiration (biopsy) of thyroid nodules is performed in the office by experienced physicians, with access to cutting edge molecular/genetic testing of samples when needed.
Functional imaging is readily available from Stony Brook Advanced Imaging

Thyroid Cancer

Our team has extensive knowledge and experience treating the wide array of thyroid cancers. We are pleased to offer a multi-disciplinary approach, working closely with the Surgical, Oncology, and Radiation Oncology services at Stony Brook Medicine to center care on a patient's individual needs. Appointments are available in our Multi-Disciplinary Head and Neck Cancer clinic, where patients can see all of their doctors in one visit, offering a patient-based team approach to your cancer care. We also provide long-term clinical, laboratory, and imaging follow up for thyroid cancer.
Education:
We are committed to sharing our knowledge of thyroid diseases to patients and clinicians-in-training alike. Trainees in our fellowship program receive extensive training in neck ultrasound, graduating with hands-on experience far above what is typical. 
Several of our physicians are frequent invited speakers to our local ThyCa chapter, a Thyroid Cancer Survivor Group. 
Dr. Maxwell is a member of the American Thyroid Association Patient Affairs Committee, is a contributing author to several publications about thyroid disorders for both the public and medical community, and is an instructor for neck ultrasound at the national level.
To make an appointment with an endocrinologist for thyroid-related issues, please call the following locations:

East Setauket:
26 Research Way
Setauket- East Setauket, NY 11733
631-444-0580
Commack:
Advanced Specialty Care
500 Commack Road, Suite 103
Commack, NY 11725
631-638-0597