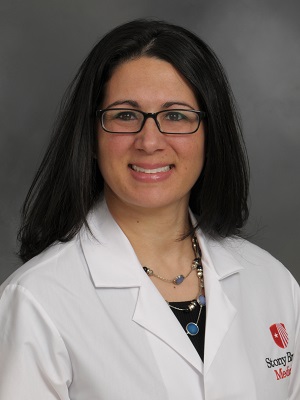 Dr. Brianne Navetta-Modrov is an Allergist and Immunologist in the Division of Rheumatology, Allergy and Immunology, within the Department of Medicine at Stony Brook University (SBU) School of Medicine, and Clinic Director, Allergy/Immunology at Stony Brook Medicine.
Dr. Navetta-Modrov completed her fellowship training in pediatric and adult allergy and immunology at North Shore and Long Island Jewish, Northwell Health in July 2018. She graduated and earned her MD from Albany Medical College in 2012. She trained in Internal Medicine and served as a chief resident in Internal Medicine at Northwell Health on Long Island, New York.

Dr. Navetta-Modrov grew up in East Setauket, New York and is excited to join the faculty at SBU to serve the community where she was raised. Dr. Navetta-Modrov cares for both pediatric and adult patients with a dedicated nurse at Commack Clinic, Commack, New York, one of the SBU major outpatient Centers. She is also interested in integrating patient education as part of the whole patient care, such as the importance of carrying Epinephrine autoinjector and penicillin allergy testing.

In collaboration with the Center of Autoinflammatory Diseases directed by Dr. Qingping Yao, one of few experts in the field, Dr. Navetta has gained first-hand experience with diagnosis and treatment for autoinflammatory disease/periodic fever syndrome. She has identified cases of such disorders in patients who presented with allergic and immunologic phenomena. Since these autoinflammatory diseases involve genetic and molecular analysis, there are few allergists and immunologists who specialize in the field. She has a particular interest in understanding the presentation of allergic disease in this special patient population. She not only has provided excellent care for patients, but also has interest in pursuing clinical and translational research in patients with autoinflammatory disease on both an allergic and immunologic basis in the future.
If you have fever, rash, nasal congestion, sinusitis, shortness of breath, food intolerance, or feel sick always, you may have the following disorders that may require evaluation and testing by an Allergist / Immunologist.
Allergic Rhinitis and Conjunctivitis
Allergen Immunotherapy (Allergy shots)
Food Allergy
Drug Allergy
Contact Dermatitis
Atopic Dermatitis
Asthma
Urticaria (Hives)
Immunodeficiency
Scheduling Contact Information
Tel. 631-638-0160 or 631-444-0580
Commack Office
500 Commack Road, Suite 103, Commack, NY 11725