Why Choose Stony Brook for your Residency or Fellowship?
The Division of Rheumatology, Allergy and Immunology has a Rheumatology Fellowship Program since 1980s. This is a two-year accredited clinical program. Two fellows are chosen and enrolled from a pool of applicants each year, and there are four fellows currently.  The program provides inpatient and outpatient clinical services at the Stony Brook University Medical Center and at the VA Medical Center at Northport.

Our teaching faculty consists of the University Hospital rheumatologists, VA rheumatologists and community rheumatology practitioners. Our faculty members present a series of lectures on topics of various rheumatic diseases weekly over the first two months after the first year of fellowship starts. Didactic teaching is conducted for ambulatory care and consultative service. Clinical fellows mainly spend their time on continuity clinics and performing consultations for the University and VA hospitals.

They are required to rotate with other Departments within the University Hospital, such as Orthopedics, Physical Medicine and Rehabilitation, Osteoporosis, Radiology, Immunology, and Pediatric Rheumatology. They are expected to attend conferences, including Medicine Grand Rounds, Rheumatology Grand Rounds, and Case Conferences. They are encouraged to use elective time for clinical, translational, basic research projects or independent studies.  Fellowship training leads to board eligibility in Rheumatology at the end of the second year. Interested applicants are encouraged to apply via ERAS. A selection process for fellows starts in August and interviews begin in September and October.
For information regarding eligibility requirements please visit our Stony Brook GME website:  https://renaissance.stonybrookmedicine.edu/gme/application
For any questions, please contact program coordinator, Ebony Williams:
Email: ebony.williams@stonybrookmedicine.edu
Phone: (631) 444-8366
Fax: (631) 520-2572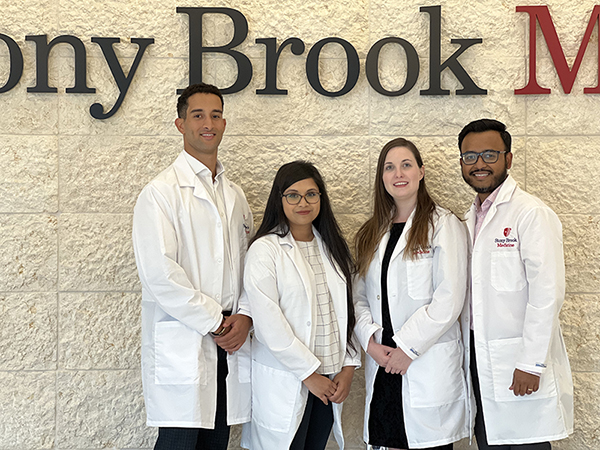 Drs. Manuel Garcia-Smester (PGY4), Ashmia Saif (PGY5), Meghan Beard (PGY4) and Asif Uddin (PGY5)