---
Elizabeth Roemer, MA
Associate Director of Research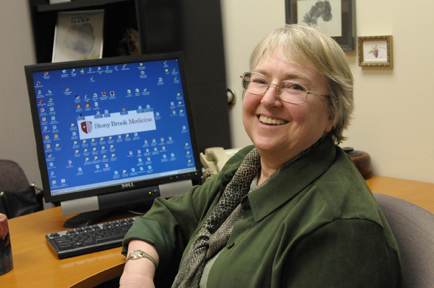 ---
Elizabeth J. Roemer, MA is the Associate Director of Research and has been responsible for developing and maintaining the Division of Research in the Ob/Gyn Department at Stony Brook Medicine since 2011. Ms. Roemer has over thirty-five years of experience in biomedical research. Prior to joining Ob/Gyn, she was a Senior Research Scientist and Lecturer in both the Departments of Pathology and Biochemistry & Cellular Biology at the State University of New York at Stony Brook. There, in addition to her own research, she was responsible for managing a large and diverse translational medicine laboratory that specialized in a variety of topics related to inflammation and metastasis with primary emphasis on proteinases and inhibitors. She has participated in, and often managed, a wide range of interdisciplinary projects that included both University and Renaissance School of Medicine at Stony Brook University colleagues as well as industry stakeholders. Ms. Roemer is also a longtime member of the American Society for Cell Biology, The New York Academy of Sciences, and The Society for In Vitro Biology.

Ms. Roemer is the primary point-of-contact between the Obstetrics and Gynecology Division of Research and the SUNY Research Foundation Offices and the Stony Brook Office of Vice President for Research (OVPR). She also facilitates interaction with other academic and administrative units on and off campus and extramural sponsors. She aids faculty and residents in developing their research interests, facilitates meetings with other investigators to discuss common interests, fosters inter-departmental and inter-institutional collaborative research efforts and establishes, expands and supports research collaborations. Ms. Roemer identifies and tracks funding opportunities from a wide array of sources and works with faculty to develop strategies and proposals for grant and clinical research funding. She coordinates grant proposals, contracts and renewals; editing and formatting grant proposals. She is our key resource to identify and obtain auxiliary services and assistance for the research enterprise.

Please see Ms. Roemer's Research Biography for more information.