Welcome to the Ob/Gyn Residency Program at Stony Brook. Our residency is an academic training program within a university teaching hospital, offering an environment for residents to complete their training with the highest levels of personal and professional growth.  We believe that the strengths of our Residency Program are not only the academic and clinical experiences, but also the collegial working environment fostered among our faculty and residents.
We have a number of reasons why we are a superb training program:
We attract a diverse group of enthusiastic residents to our program from all over the country. Our residents are a respected part of the ObGyn team. They treat each other like family, which creates an outstanding work environment.
Our Residency Program is fully accredited by ACGME. 
We have a proven track record of matching residents into subspecialty Fellowship training (FPMRS, Minimally Invasive Surgery, Gynecologic Oncology, Maternal Fetal Medicine and REI).
The Program's educational mission is well supported by both the Department and Institution. Our Department's faculty is actively involved in APGO (the Association of Professors in Gynecology & Obstetrics), including several APGO Educational Scholars and an APGO Electrosurgery Scholar. Two faculty have also completed the Stony Brook University Medical Education Fellowship.
Our teaching faculty cover all subspecialties of Obstetrics and Gynecology and participate in our mentorship program. We also have strong relationships with our Community Volunteer Faculty (many of whom are graduates from our Residency Program) who bring obstetric and gynecologic case volume and teaching to our program
We have third year electives, which can include research, away rotations or International electives.
We are located in a suburban community about 60 miles from New York City. We are equidistant to Manhattan and Long Island beaches or Wine Country.  
Opportunities for research.
Night Float System, with on-call hours limited to approximately 12 hour shifts.
Stony Brook is the only accredited allopathic medical school on Eastern Long Island, serving a diverse patient population of 1.5 million people. 
We are a Level 4 (most advanced) Regional Perinatal Center for New York State and receive referrals of the most complicated cases from across Suffolk County. We have a Level 3 NICU where we are capable of caring for the smallest and sickest newborn babies. Stony Brook University Hospital is the only level 1, Trauma Center in Suffolk County. 
Our Fellowship Programs include Maternal Fetal Medicine and Minimally Invasive Surgery, which enhance the residency experience. 
Obstetrical and Gynecologic Simulation program, including Surgical and Clinical Simulation Centers.
Ryan Residency Training Program - since 2014
Excellent ABOG written and oral board pass rates.
Culture of Patient Safety and Quality Assurance. 
Application information:
Applications to our program are accepted exclusively through ERAS, the Electronic Residency Application Service of the Association of American Medical Colleges. Personal interviews are by invitation only.
The minimum requirements for application, our resident conttract/employment agreement, salary information and a full list our Office of GME policies are listed on the Stonybrook University Medical Center's Graduate Medical Education webpage: Graduate Medical Education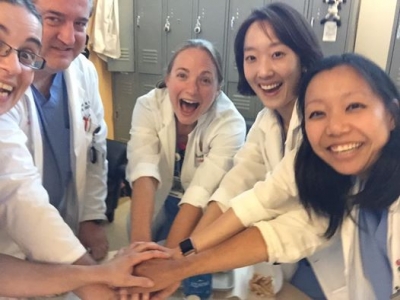 For further information about our residency program, please contact our offices at roseanna.stasik@stonybrookmedicine.edu