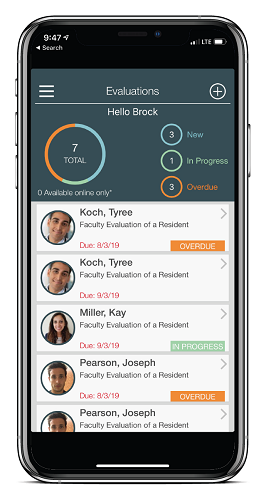 Each resident is evaluated on a monthly basis by the faculty and chief residents on the service that he/she just completed. Evaluations are also completed by professional associates and medical students. These evaluations are completed in an electronic resident management system (New Innovations) and made available to residents for review upon completion. The evaluations provide the residents with feedback and assist them in identifying strengths and weaknesses in a consistent and timely manner. The evaluations are reviewed with the resident during his or her semi-annual reviews by the residency program director. Residents also receive written feedback from patients with whom they are involved as a means to evaluate their professionalism, interpersonal communication skills and working relationships. Just as the residents are evaluated, the residents are provided opportunities at the end of each rotation to evaluate their experience and to evaluate faculty with whom they work on each rotaiton.
Our program aslo utilizes an app-based tool (MyTIPReport) for faculty to provide immediate evaluative feedback for surgical cases they perform, to track the development of surgical skills. Over time and with experience, residents become credentialled to independently perform procedures for which they are deemed clinically competent. They also complete the Lifelong Learning series of articles and answer questions on these articles, as designed by the American Board of Obstetrics and Gynecology, Inc. (ABOG). Residents complete online modules in Patient Safety and Quality Assurance that are assigned by Stony Brook Medical Center and the American Medical Association. There are also modules in Medicolegal Medicine, Cultural Competency, and Business of Medicine from AMA and ELM Exchange, as well as Reproductive Endocrinology (ASRM) Modules. The residents must also log and track their operative experiences in the ACGME Case Log System database to ensure they are receiving adequate exposure to all of the cases they are required to attain to satisfactorily complete their training.
As an ACGME accredited residency training program, our training evaluations are based on Milestones which are developed by ACGME in conjunction with the Obstetrics & Gynecology Residency Review Committee (RRC).
In addition, our residents are required to take the Council on Resident Education in Obstetrics and Gynecology (CREOG) In-Training Exam in each of their four years of training. This exam is a valubale tool that is used to assess one's progress throughout training, provides the resident a method of self-assessment, gives the residents an idea of how their performance compares to residents Nationwide in the same post graduate year (PGY), and can be a predictor of how they might perform on Written Obstetrics and Gynecology Board Exams (ABOG).
Lastly, our residents also have the ability to review the Residency training program on an annual basis in an effort to collect valuable feedback which can be assessed and incorporated into an Annual Program Review which is intended to identify strengths and areas for improvement in the program. This ensures the residents are involved in the evolution of their training program as they progress in their training, and is reviewed by the Stony Brook Office of Graduate Medical Education. The Office of GME oversees and guides all of the Stony Brook graduate medical training programs to ensure ACGME Program Requirements are being met. Finally, the last method of evaluation of our training program is administered by the ACGME requires residents and faculty complete annual program surveys, which is review by the RRC and is important for the accreditation of the Program.