Residency
The Ob/Gyn residency training program is a university-based training program with the Department of Obstetrics, Gynecology and Reproductive Medicine at the State University of New York at Stony Brook. The residency in Ob/Gyn is a fully accredited, four-year training program with five (5) residents per year for four (4) years of training. The residents are trained in all aspects of Obstetrics and Gynecology. Residents completing our program are prepared to pursue fellowships, careers in academic medicine or pursue a clinical private practice.
Mission
The mission of Stony Brook's Residency in Obstetrics and Gynecology and Reproductive Medicine is to train skilled, thoughtful physicians who are well prepared to provide compassionate, patient-centered care to female patients throughout their lifespans. This is accomplished within an environment that fosters the highest levels of personal and professional growth, with exposure to all sub-specialties of Obstetrics and Gynecology as a means through which our residents will develop a solid knowledge base and excellent clinical skills so that they may become leaders in our field. Our field is a ever-changing and we remain proactive in our approach to resident education. We evaluate our training program regularly, making the necessary adjustments to continue to be on the "cutting edge" of resident education and to meet our goals. We are constantly searching for ways to improve and resident input is paramount to that endeavor.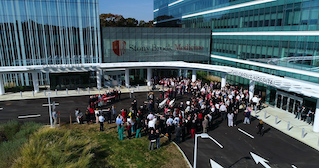 Stony Brook Medicine University Medical Center has recently completed a $300 million dollar expansion. The expansion includes a new multi-specialty outpatient office complex, ambulatory surgical center, imaging and cancer center, emergency room, Women's and Infants Center, and a new Heart Center. In 2011, the hospital also opened a new Women's center which included a new Labor & Delivery unit, Antepartum and Postpartum Units, and a Neonatal Intensive Care Unit.
The Department
The Department of Obstetrics, Gynecology and Reproductive Medicine is composed of the following divisions: General Obstetrics and Gynecology, Maternal-Fetal Medicine, Gynecologic Oncology, Urogynecology, Reproductive Endocrinology and Infertility, Minimally Invasive Gynecologic Surgery, and Obstetrical and Gynecologic Ultrasound. Each of the divisions provides a broad spectrum of services and complete clinical experiences.
The Department is well represented by a solid full-time faculty, as well as a very committed voluntary, community faculty, which teaches and closely supervises resident activities.
The Department supports an active and well-designed resident continuity clinic. The clinic is supervised at all times by a department faculty attending physician specifically assigned to cover resident office hours. The residents see their patients in a new, well-equipped ambulatory suite and practice patient continuity care with dedicated nurses and support staff to provide patients with high quality, humanistic and personal care. All residency training currently takes place to the University Medical Center, the Ambulatory Clinic and the Ambulatory Surgical Center, which enables residents to avoid extra time traveling and allows them to focus within a central training facility.
Each year, the Department has approximately 10,500 ambulatory care visits, 3,500 deliveries and 2,500 surgical procedures all of which are taught by faculty using state of the art procedures including advanced operative laparoscopy, robotic surgery, hysteroscopy, microsurgery, radical surgery and laser, just to name a few. All patients admitted to the University Medical Center are considered teaching cases and are attended by the resident service.
The Structure of the Program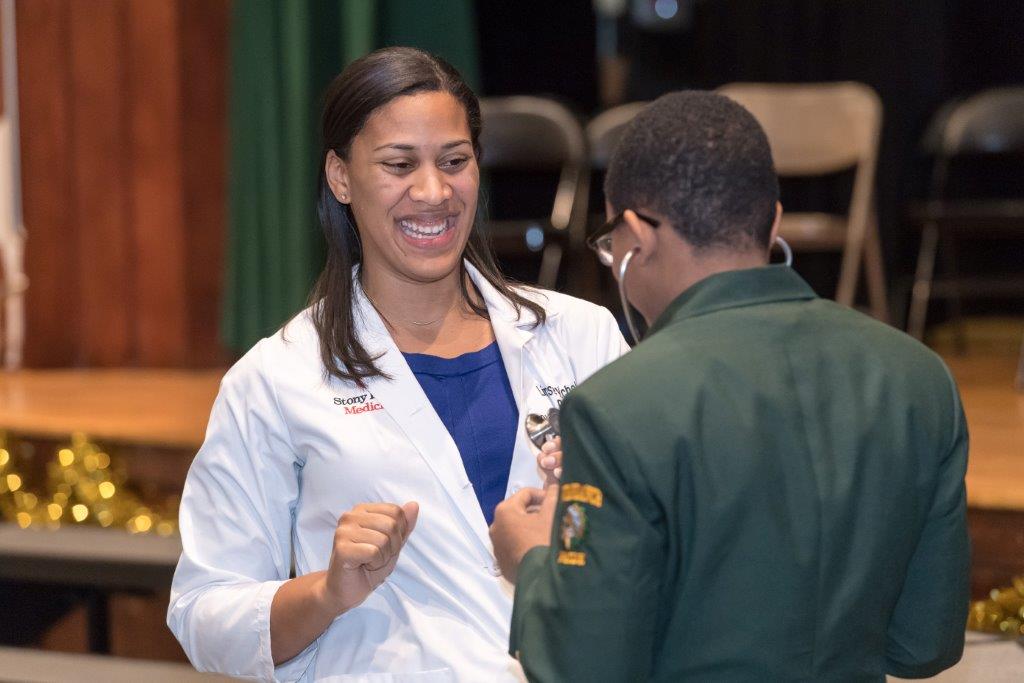 The residency training program is a fully accredited, four-year training program that accepts five residents per year. The curriculum is comprised of clinical rotations, didactic conferences, continuity clinic education, and research training. The core lecture series that are part of the didactic conferences are modeled after the Council on Resident Education in Obstetrics and Gynecology (CREOG) learning objectives for Ob/Gyn residents and includes almost 100 lectures on the various topics. In addition to the core lecture series, the department provides conferences during protected resident time including: pathology conference, surgical gynecology conference, chemotherapy treatment planning, chairman's rounds, Q+A meetings, and grand rounds.
Numerous academic and support resources are available to the residents. The hospital is physically connected the Health Science Center for the University which houses the medical library, computer centers, journal archives and medical informatics department. In addition, the residents have internet-based access to the extensive online collection of journals, texts and search engines subscribed to by the Medical Center. These resources can be accessed by any hospital terminal or at home.