The Department of Obstetrics, Gynecology and Reproductive Medicine strives to create collaborative research opportunities for faculty and students. Both groups are encouraged to attend Grand Rounds and monthly Research Division Meetings to discuss their work and that of their colleagues. Click on the links below or scroll down for more information.

The PROMOTE Prenatal Screener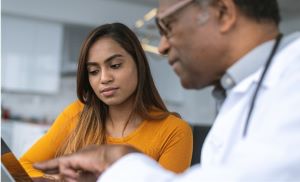 Screen for psychosocial vulnerabilities and substance use in prenatal care is not well integrated and adopted in clinical practice.
The PROMOTE* screener was designed for systematic, comprehensive, and easy psychosocial clinical assessment to improve care and perinatal outcomes.
*Profile for Maternal & Obstetric Treatment Effectiveness