The Department of Obstetrics, Gynecology and Reproductive Medicine strives to create collaborative research opportunities for faculty and students. Both groups are encouraged to attend Grand Rounds and monthly Research Division Meetings to discuss their work and that of their colleagues. Click on the links below or scroll down for more information.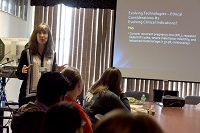 Research Division Meetings
Research meetings are held every month. Faculty, staff, and students are encouraged to attend to share their research; to learn about Institutional Review Board (IRB) protocols and grants; and to discuss new methods of conducting research.
Meetings are held the third Wednesday of every month from 11:30AM-12:30PM in the Health Sciences Center, Floor 9, Conference Room 060. Please contact Research Coordinator, Elizabeth Roemer, for more information.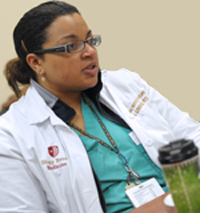 Journal Club
Each month, a current article is selected for review and discussion by residents. Sessions are coordinated by Drs. Joseph Chappelle and Elizabeth Garduno and provide residents a forum to learn about new literature, teaching them how to critically review and interpret published articles. Statistics and study schematics are frequently discussed to better inform residents about research design. Meetings are held the first Wednesday of every month at 9AM.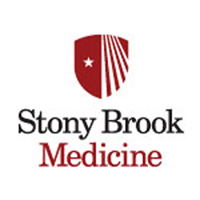 Institutional Resources
To SBU Research with Human Subjects Training:
https://research.stonybrook.edu/human-subjects#human-subjects-training

To CITI Training Programs:
https://about.citiprogram.org/en/homepage/
Note: HIPPA Training will now be satisfied within the CITI curriculum or through attendance at the HSC HIPAA/Live Lecture training. Exceptions will be reviewed upon request.

Policy U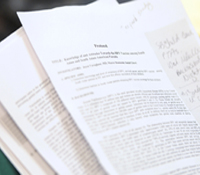 pdates
Coming Soon: 2019-2023 Trans-NIH Strategic Plan for Women's Health Research
The new Trans-NIH Strategic Plan for Women's Health Research will be published in early 2019. The 5-year plan will highlight the following strategic goals:
• To advance rigorous research that is relevant to the health of women
• To develop methods and leverage data sources to consider sex and gender influences that enhance research for the health of women
• To enhance dissemination and implementation of evidence to improve the health of women
• To promote training and careers to develop a well-trained, diverse, and robust workforce to advance science for the health of women
• To improve evaluation of research that is relevant to the health of women
View the full set of goals and objectives see a preview graphic here: https://orwh.od.nih.gov/sites/orwh/files/docs/ORWH_Infographic_11x17_bifold_r8_spread_12-18-18_FINAL.pdf


The full Strategic Plan will be added as soon as it is released by NIH

Elizabeth J. Roemer, Research Coordinator
Department of Obstetrics, Gynecology & Reproductive Medicine
HSC, Level 9, Rm. 060A
Stony Brook University Medical Center
Stony Brook, NY 11794-8091
Phone:631-444-9211
Fax: 631-444-3944
https://medicine.stonybrookmedicine.edu/obgyn/research