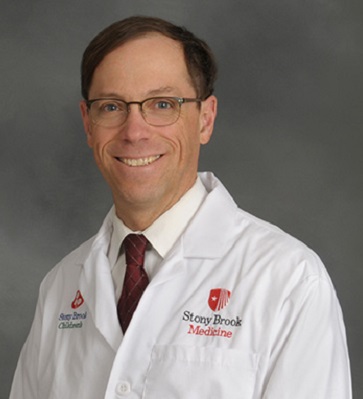 Andrew Lane M.D.
Professor of Clinical Pediatrics
Program Director, Pediatric Endocrinology Fellowship Program
Welcome to Stony Brook University Hospital's Pediatric Endocrinology Training Program. I have been the Director of the Program since 2011 having previously joined our Division in 1999. This is a very exciting time for our program, department, and University Medical Center. Our faculty, Chair of Pediatrics, and Renaissance School of Medicine at Stony Brook University are all dedicated to advancing our first-rate training program.
I am delighted by your interest, and look forward to telling you more about Stony Brook Pediatric Endocrinology.
We are very proud of Stony Brook and all it has to offer our trainees. Our three-year program, fully accredited by the ACGME, offers tremendous patient diversity and clinical opportunities. We provide a robust academic environment that achieves a balance between the intensely clinical and analytical facets of endocrinology, and the reflective and rewarding aspects of direct patient care.
About Dr. Lane:
"Dr. Lane is Program Director of the Pediatric Endocrinology Fellowship Program, Interim Division Chief and Professor of Clinical Pediatrics.
"I attended Bowdoin College and earned an A.B. in Biology. After working in a neurogenetics laboratory at Massachusetts General Hospital in Boston for two years I attended the University of Connecticut School Of Medicine where I met my wife, Dr. Susan Lane. We then moved to Rochester, NY where I trained in pediatrics at Strong Memorial Hospital and completed my clinical year of fellowship training. I returned to MGH to complete three years of basic research for fellowship, after which I joined the Department of Pediatrics at Stony Brook in 1999. I assumed directorship of our fellowship program in 2011. Teaching has been a life-long passion of mine and I am happiest when I am able to help a student, resident, fellow, or a patient understand a new topic or work on a solution to a problem.
Susan and I are the proud parents of three sons, 2 cats and a dog, and we live in Setauket, NY. "
&nbsp