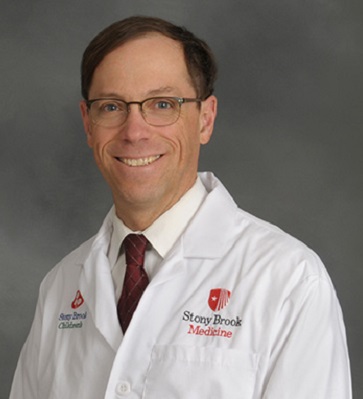 Andrew Lane M.D.,Professor of Clinical Pediatrics
Program Director, Pediatric Endocrinology Fellowship Program
Welcome to Stony Brook University Hospital's Pediatric Endocrinology Training Program. I have been the Director of the Program since 2011 having previously joined pur Division in 1999. This is a very exciting time for our program, department, and University Medical Center. Our faculty, Chair of Pediatrics, and Renaissance School of Medicine at Stony Brook University are all dedicated to advancing our first-rate training program.

I am delighted by your interest, and look forward to telling you more about Stony Brook Pediatric Endocrinology:
Our Strengths.

We are very proud of Stony Brook and all it has to offer our trainees. Our three-year program, fully accredited by the ACGME, offers tremendous patient diversity and clinical opportunities. We provide a robust academic environment that achieves a balance between the intensely clinical and analytical facets of endocrinology, and the reflective and rewarding aspects of direct patient care. Highlights of our program include:

Outstanding teaching hospital with diverse patient populations. Stony Brook Children's Hospital has expanded significantly over the past 10 years and is scheduled to open the doors to a new, 104-bed pediatric facility in the late fall of 2019. The new Children's Hospital offers state-of-the-art technologies with single-bed rooms designed for delivery of care at the bedside and includes a General Pediatrics Ward, Hematology Oncology Unit, a PICU, an Adolescent Unit, and an in-patient Psychiatry Unit. The child-friendly setting provides patients and families a safe and beautiful healing environment complete with several play rooms, a live video feed from the Long Island Aquarium, and a lush outdoor rooftop garden. In addition, families can take respite in the Ronald McDonald Family Room, which has become a prototype for other institutions, or in the on-campus Ronald McDonald House, which will break ground in the near future. Stony Brook has an academic affiliation with two nearby renowned research facilities, Cold Spring Harbor and the Brookhaven National Laboratory.

Unwavering emphasis on the teaching mission of the fellowship program, with both extemporaneous bedside teaching and a structured didactic program. We have a 100% first-time board pass rate over the past ten years. Our fellows pursue scholarly endeavors including investigator-initiated clinical research and outcomes research, and are all authors of scholarly publications in peer-reviewed journals.

A fabulous place to live. Suffolk County and the Stony Brook area are beautiful, safe environments with an abundance of nearby and easily accessible venues, including pristine beaches for surfers and sunbathers, and scenic bike trails for riders of all skill levels. Our charming villages, local wineries, and a wide variety of casual pubs and 4-star restaurants offer entertainment options for all tastes. With a world class University right across the road, you have ready access to film festivals, concerts, and sporting events. Our local school systems are nationally top-rated, with an annual slate of finalists and semifinalists for Intel and Siemens-Westinghouse science awards and National Merit Scholarships.

Exceptional career preparation. Many of our graduates accept faculty positions in academic programs, while others pursue careers in private practice settings.

An upbeat, caring, experienced administrative staff that emphasizes service. I invite you to visit and explore what we have to offer!
About Dr. Lane:
"Dr. Lane is Program Director of the Pediatric Endocrinology Fellowship Program, Interim Division Chief and Professor of Clinical Pediatrics.
"I attended Bowdoin College and earned an A.B. in Biology. After working in a neurogenetics laboratory at Massachusetts General Hospital in Boston for two years I attended the University of Connecticut School of Medicine where I met my wife, Dr. Susan Lane. We then moved to Rochester, NY where I trained in pediatrics at Strong Memorial Hospital and completed my clinical year of fellowship training. I returned to MGH to complete three years of basic research for fellowship, after which I joined the Department of Pediatrics at Stony Brook in 1999. I assumed directorship of our fellowship program in 2011. Teaching has been a life-long passion of mine and I am happiest when I am able to help a student, resident, fellow, or a patient understand a new topic or work on a solution to a problem.
Susan and I are the proud parents of three sons, 2 cats and a dog, and we live in Setauket, NY. "