December 2018: Lulu's thesis defense!
Congratulations, Dr. Bai!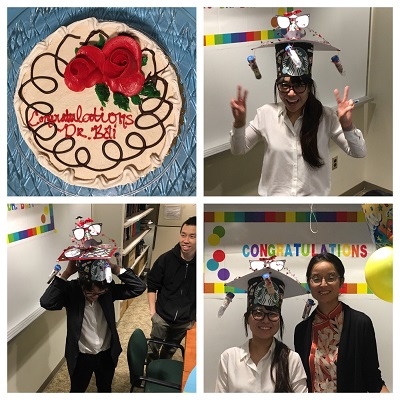 ---
July 2018: Annual lab retreat
Another lab selfie (no stick required). (Clockwise from left) Mike, Erik, Amgad, Cate, Jen, Mary Lou, Lulu, Jessica
---
April-May 2018: Defense and triple graduation!
Defended!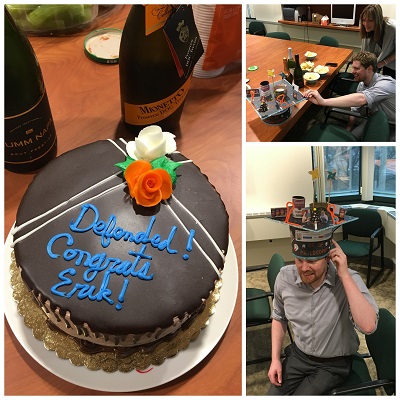 Hooded!
Congratulations, Dr. Van Vlack, Dr. Dr. Patel (MD/PhD), and Kathryn, on crossing the finish line! Wishing you all the best in your future endeavors.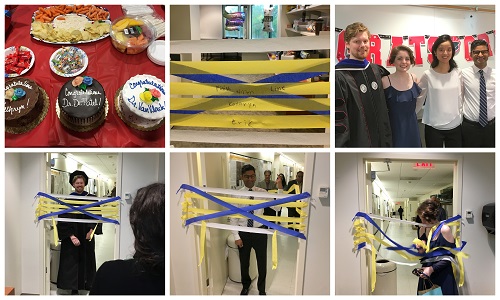 ---
April 2018: URECA Research Symposium
Kathryn and Amgad presenting their "twin" posters at the undergradaute research symposium. Well done!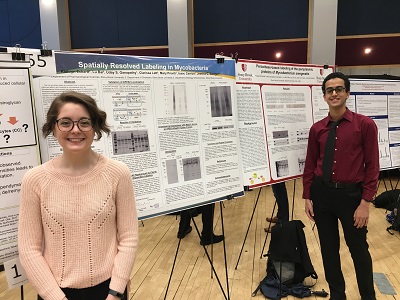 ---
December 2017: Congratulations, "Master" Jia!
Jia graduates with her MS in Biomedical Sciences (Pharmacology). We will miss you!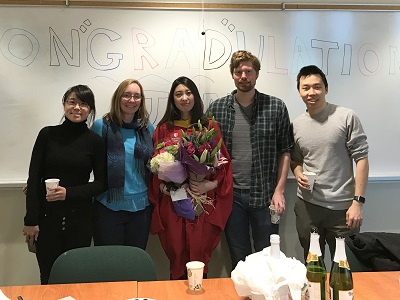 ---
August 2017: Simons Scholars Research Symposium
Adrian holding forth about peroxidase-dependent labeling with Dr. Aaron Neiman
Well done, Adrian! Thanks for your dedication and contributions to the lab.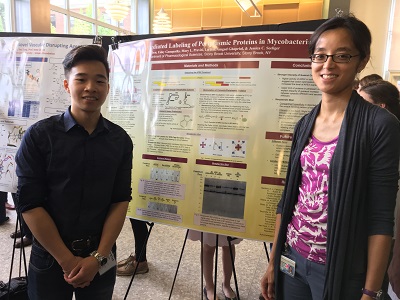 ---
July 2017: Lab lunch!
The lab that eats together...? (L-R) Jia, Adrian, Lulu, Erik, (missing PI/photographer), Amgad, Uday, Mike, Mary Lou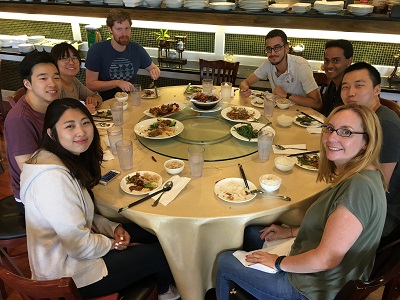 Post-prandial elevator selfie
---
May 2017: Graduation!
Congratulations, Rebecca! University valedictorian and BA with honors in biochemistry!
Plus (nearly) everyone in the lab in the same place at the same time, at last.
(L-R): Mike, Amgad, Rebecca, Jessica, Erik, Uday, Mary Lou, Jia (not pictured: Lulu)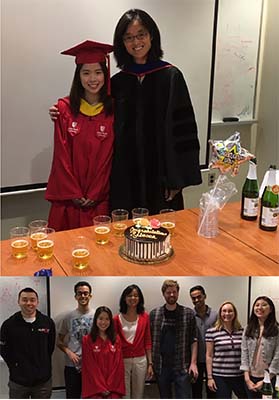 ---
April 2017: URECA Symposium
Kathryn showing off her excellent poster at the annual undergraduate research fair.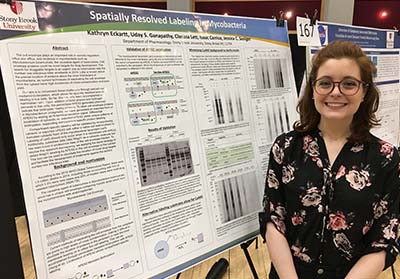 ---
October 2016: Congratulations, Uday!
Look who won the Outstanding Presentation Prize at the NYAS Emerging Paradigms in Chemical Biology and Drug Discovery meeting!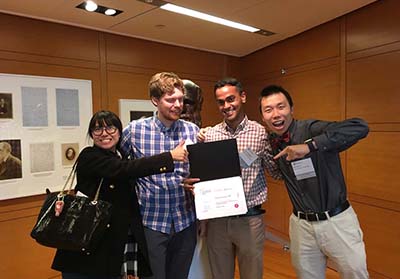 ---
September 2016: Finally, a new lab photo!
(L-R) Jessica, Lulu, Mike, Mary Lou, Erik, Stephanie, Uday, Rebecca, Kathryn.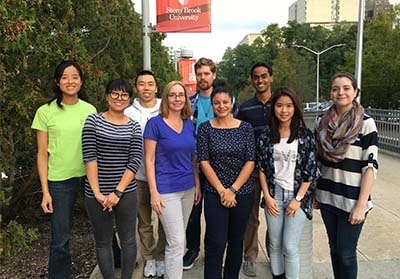 ---
August 2016: Simons Scholars symposium!
Lulu and Jessica with Melody at her poster for the Simons Summer Research Program.
Thanks, Melody, for all your hard work, and good luck with senior year!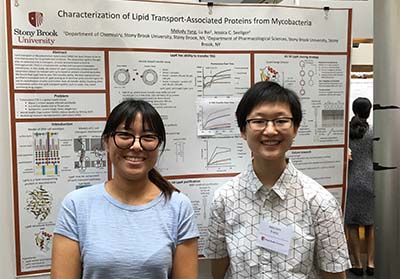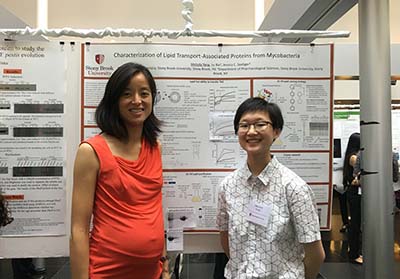 ---
May 2016: Congrats Dr. Patel, PhD!
Thesis defense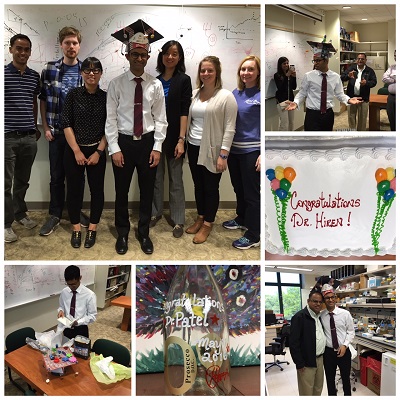 Doctoral hooding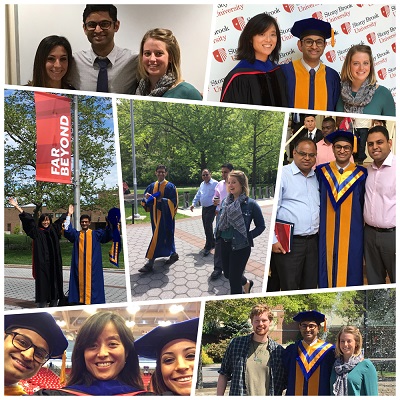 Another one bites the dust...
---
March 2016: Flannel Friday
We're all lumberjacks and we're okay!
(L-R) Kathryn, Erik, Hiren, Uday, Meg, Jessica, Lulu, Mary Lou, Rebecca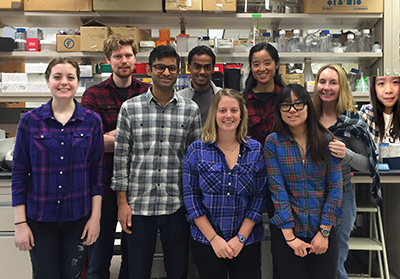 ---
November 2015: Lab outing! Peacock PaintNite at Napper Tandy's Pub
I see your truuuuue colors shining through....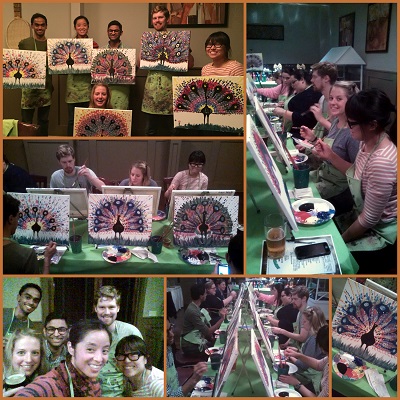 ---
July 2015: Congrats Dr. Touchette!!
Congratulations to the lab's first PhD! Well done, Meg, on your thesis defense!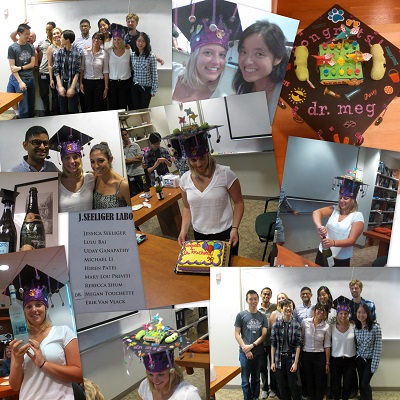 ---
May 2015: Congratulations to our lab graduates Julia, Peter and Meg!
All dressed up for a little pomp and circumstance: graduation for Peter and Julia and doctoral hooding for Meg.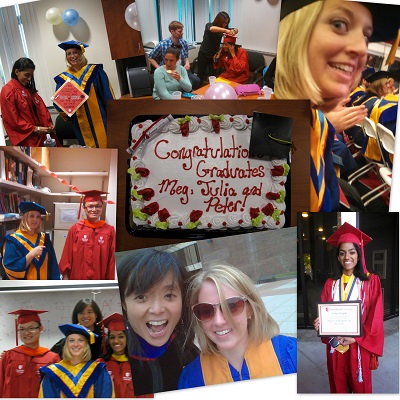 ---
April 2015: Congratulations to Peter and Julia on their Academic Excellence!
Peter, Jessica and Julia at the ceremony for the Undergraduate Recognition awards.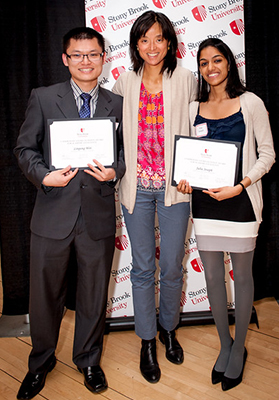 ---
September 2014: Obligatory elevator selfie
(L-R) Rebecca, Lulu, Julia, Eric, Meg, Peter, Mary Lou, Jessica, Mohamed, Hiren.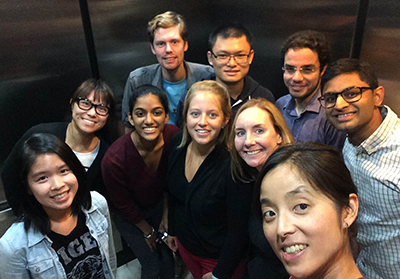 ---
December 2013: J&MSeeliger Labs Holiday Party
Homemade pizzas, white elephant gift exchange, and the surprise appearance of a pack of mustaches.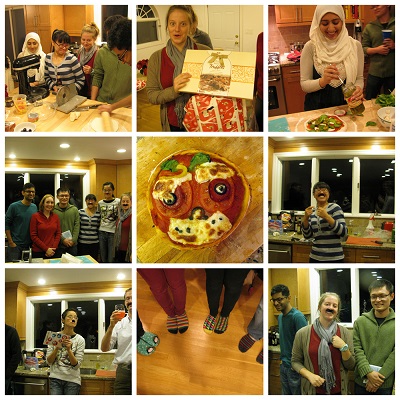 ---
July 2013: JSeeliger Lab takes on the Netherlands!
Jessica and Meg at the University of Groningen (and VUmc in Amsterdam) to pow-wow on mycobacterial lipids and membranes.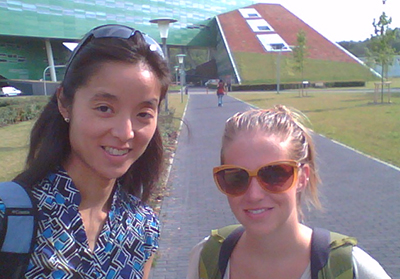 ---
June 2013: NYAS Chemical Biology Symposium
Hiren wins best poster. Who says blue ribbons are only for county fairs?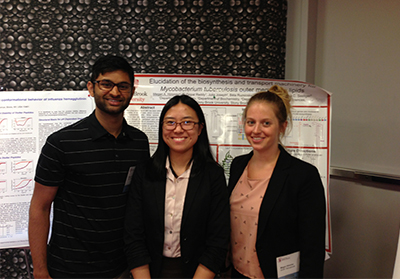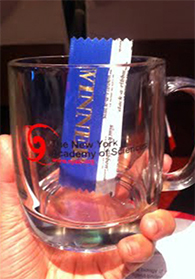 ---
April 2013: Baby shower for Satarupa and Arijit
Wishing Arijit, Rupa and little "Simba" Satrajit all the very best with a Lion King-themed tea party.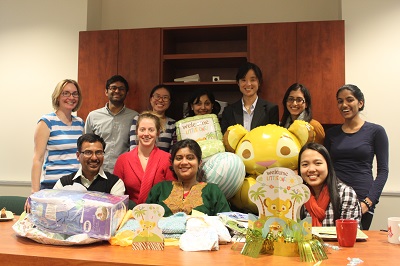 ---
March 2013: Spring Undergraduate Research Symposium at Columbia University
JCSLab represent! Thanks to Viven and Julia for doing the lab proud at the Columbia research conference.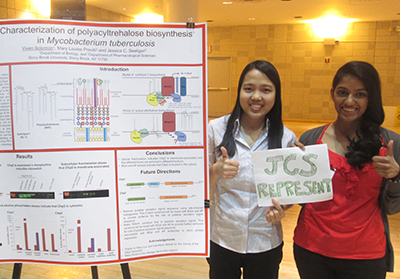 ---
December 2012: Lab Cupcakes
Happy birthday to Satarupa! (And thanks to Meg for a fantastic decoration job on the cupcakes.)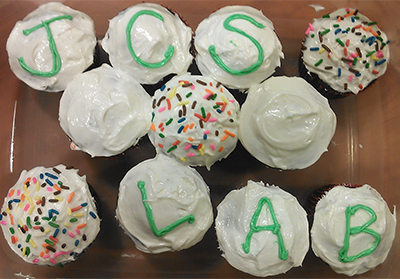 ---
August 2012: Lab Potluck and Tri-Lab Ice Cream Outing
One word- EPIC!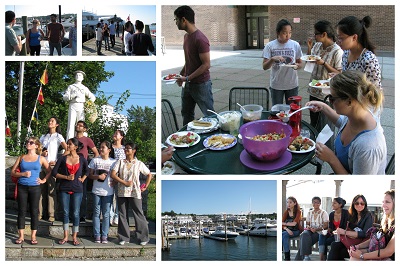 ---
August 2012: Undergraduate Summer 2012 Research Symposium
Mentor (Meg) and Mentee (Julia)... a couple of troublemakers.
---
July 2012: Post Fro-Yo
Taking the leap of faith: Hiren, Meg, Mary Lou, Julia, and Lulu.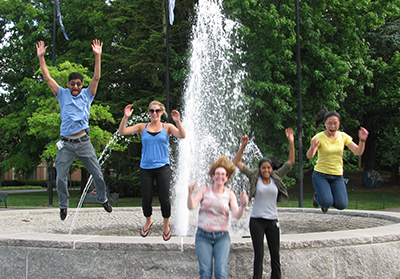 ---
June 2012: NYAS Chemical Biology Discussion Group Year-End Symposium
Satarupa, Lulu, Jessica, and Meg at the NYAS in lower Manhattan. Science with a view!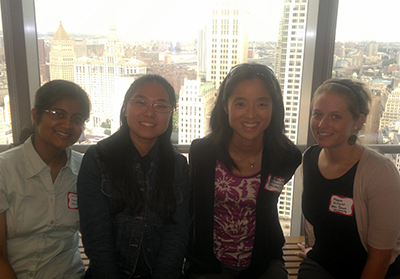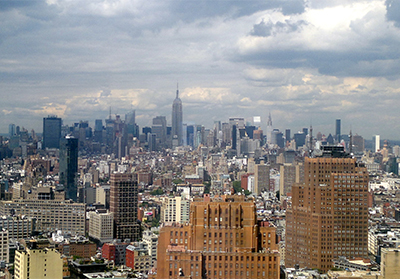 ---
May 2012: Hello, summer! For the reading-impaired, this spells out "JCSLAb!" Obviously.
(L-R) Meg, Mike, Mary Lou, Julia, Lulu, Satarupa, Jessica, and Viven (not pictured: Joe).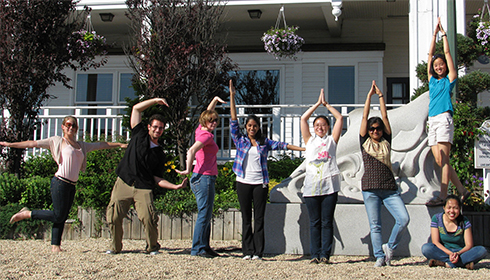 ---
March 2012: Seeliger v. Seeliger Lab Bowling Party
We were bowling really well! And then we weren't. Good fun regardless, and look out for the rematch...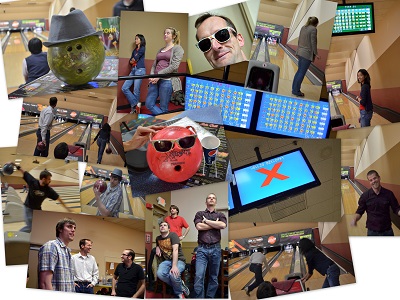 ---
December 2011: End-of-rotation lunch at Domo Sushi
Mmmmm, sushi... with Meg, Jessica, Mary Lou, Carla, Lawton, Julie-Ann (missing: Ben)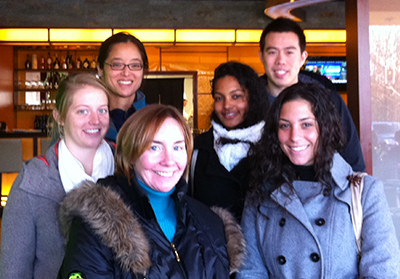 ---
October 2011: 5th annual ICB&DD Annual Symposium
Meg with her poster at the afternoon session.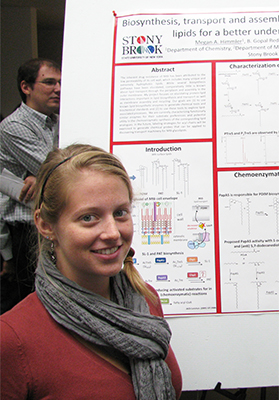 ---
August 2011: Ice cream outing
Savoring the best of Port Jeff: Coffee mud pie and hotel black bottom pie (yep, that's a ice cream flavor.)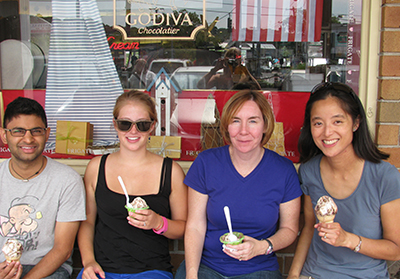 Thanks to our UGs Larisa and Sam for a great summer in the lab!
(Below L-R: Mary Lou, Hiren, Larisa, Jessica, Sam, Meg)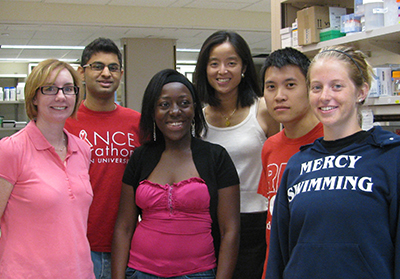 Hiren and Meg show the Sartorious balance who's boss. We will measure mass in milligrams!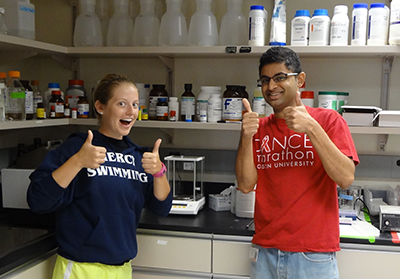 ---
June 2011: JSeeligerLab goes to Boston!
(L-R: Hiren, Meg, Jessica)
In the Broad Institute to hear about all things Mtb at the 5th Annual New England TB Symposium...which meant road trip! And crossing the lovely Long Island Sound on the ferry.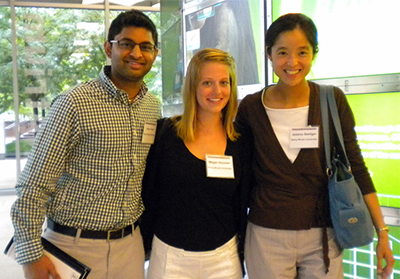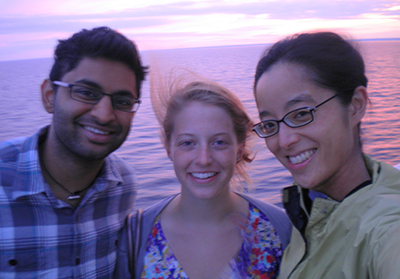 ---
May 2011: Lab lunch
(L-R) Sam, Carla, Dane, Jason, Mary Lou, Jessica
Springtime is...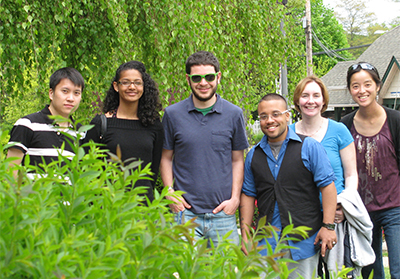 ...for being silly!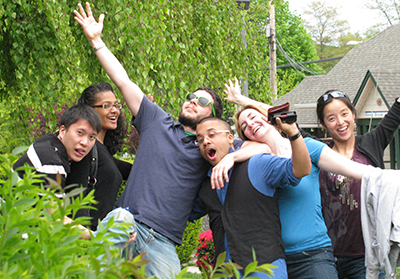 ---
December 2010 Double-lab holiday party
(L-R) Zac, Leah, Mike, Carla, George, Markus, Meg)
Cookie decorating extravaganza with the Seeliger labs!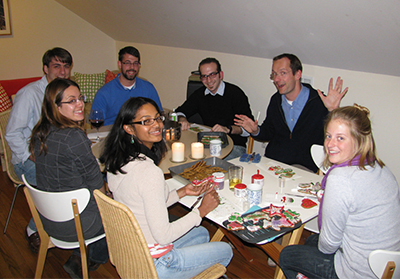 Gingerbread and copious glitter. Yummy.