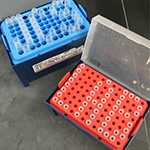 For the most current list, see this PubMed search.
Trainee co-authors are in bold.
We thank Stony Brook University, SUNY, Stony-Wold Herbert Fund, America Lung Association, Burroughs Wellcome Fund, NSF, NIGMS, and NIAID for supporting our work and trainees over the years.
---
Stony Brook University
Ganapathy, U.S., Bai, L., Wei, L., Eckartt, K.A., Lett, C.M., Previti, M.L., Carrico, I.S., Seeliger, J.C. (2018) Compartment-Specific Labeling of Bacterial Periplasmic Proteins by Peroxidase-Mediated Biotinylation, ACS Infect Dis. 4, 918-925.

Touchette, M. H.

,

Van Vlack, E.

,

Bai, L.

,

Kim, J., Cognetta, A. B., Previti, M. L., Backus, K. M., Martin, D. W., Cravatt, B. F., and Seeliger, J. C. (2017)

A Screen for Protein-Protein Interactions in Live Mycobacteria Reveals a Functional Link Between the Virulence-Associated Lipid Transporter LprG and the Mycolyltransferase Antigen 85A

, ACS Infect Dis. 5, 336-348.
Martinot, A. J., Farrow, M. F.,

Bai, L., Layre, E., Cheng, T. Y., Tsai, J. H. C., Iqbal, J., Annand, J. W., Sulllivan, Z., Hussain, M. M., Sacchettini, J. C., Moody, D. B., Seeliger, J. C.*, and Rubin, E. J*. (2016) Mycobacterial Metabolic Syndrome: LprG and Rv1410 Regulate Triacylglyceride Levels, Growth Rate and Virulence in Mycobacterium tuberculosis, PLoS Pathog. 12, e1005351. (* co-corresponding author)
Touchette M. H., Bommineni G. R., Delle Bovi R. J., Gadbery J. E., Nicora C. D., Shukla A. K., Kyle, J. E., Metz, T. O., Martin, D. W., Sampson, N. S., Miller, W. T., Tonge, P. J., Seeliger, J. C. (2015)

Diacyltransferase Activity and Chain Length Specificity of Mycobacterium tuberculosis PapA5 in the Synthesis of Alkyl Beta-Diol Lipids

. Biochemistry 54, 5457–5468.
Touchette, M. H., Holsclaw C. M., Previti, M. L., Solomon, V. C., Leary, J. A., Bertozzi, C. R., Seeliger, J. C. (2015) The rv1184c locus encodes Chp2, an acyltransferase in Mycobacterium tuberculosis polyacyltrehalose lipid biosynthesis. J. Bacteriol. 197, 201-210.
---
Prior to Stony Brook University (also under maiden name)