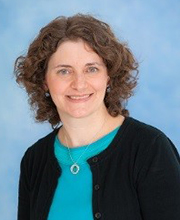 Welcome to the Physical Medicine and Rehabilitation Residency at Stony Brook. As a former resident of this program, I am excited to share all of the wonderful opportunities this program offers which certainly influenced my return as an attending! The aim of our program is to train highly qualified physiatrists through our comprehensive clinical training, extensive procedural experience and well structured didactics.
A great strength of our program is our small class size of 3 residents per year, which allows for more individualized attention with a one to one resident to attending ratio on most rotations. Additionally, this allows for greater procedural experience, and fosters a program with a family feel where the program director and faculty have an open door policy and are always available for resident concerns.
Our clinical rotations occur at three different institutions - Stony Brook, St. Charles Hospital in Port Jefferson and the Veterans Affairs Medical Center (VAMC) in Northport.
The majority of the inpatient rehabilitation experience is at St. Charles Hospital, where we have the only CARF (Commission on Accreditation of Rehabilitation Facilities) accredited inpatient and outpatient rehabilitation facilities on Long Island. At St. Charles our residents receive extensive training in the orthopedic and neurologic rehabilitation of adults and children. Additionally, they experience outpatient rehabilitation medicine including general physiatry, pediatric physiatry, spasticity clinic, Muscular Dystrophy Association Care Center, and the ThinkSMART! Concussion Management Center.
At the VAMC in Northport, our residents gain predominantly outpatient experience in general physiatry, equipment clinic, orthotics and prosthetics, electrodiagnosis (EMG), botulinum toxin injection, pain management, peripheral joint and trigger point injections, telemedicine, and ultrasound guided injections.
At Stony Brook, our residents have a 2 month rotation in interventional spine where they work one on one with faculty and gain hands on procedural experience. They also have a rotation in neuromuscular diseases and EMG, and may spend elective time through various services including neurology and orthopedics.
Our location is optimal, situated between the beautiful beaches and activities of Long Island's north and south forks and the excitement of New York City. This is a wonderful place to live whether you are single or have a family. The area school districts are exceptional, and there are plenty of parks and outdoor activities to spend leisure time.
I invite you to explore our website further and discover more about this fantastic residency program.
Thank you for your interest!
Jennifer Gray, DO
Division Chief and Residency Program Director,
Clinical Assistant Professor
Department of Orthopedics and Rehabilitation,
Renaissance School of Medicine at Stony Brook