2019 INDUCER FELLOWS
---
Tobi Somorin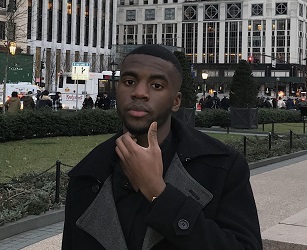 Tobi Somorin ('21) is a junior from Middletown, NY on the pre-med track majoring in Biochemistry. After medical school Tobi plans on becoming a trauma surgeon and later building his own hospitals and clinics. He is currently working on a novel research project with Dr. Jennie Williams & Dr. Mary Kritzer that looks at how stress affects chemotherapy treatments in mice. The goal of this project is to identify molecular differences between racial groups' responses to stress and how that impacts their ability to sufficiently receive chemotherapy remedies. Tobi has spent the last year and a half serving the community through SBVAC, the campus's volunteer ambulance agency. He enjoys responding to 911 emergency calls and teaching others useful life-saving practices such as CPR and Stop the Bleed techniques. Tobi is also on the President's Council of Student Advisors (COSA), an undergraduate advisory research group created by the president of the University tasked with exploring complex problems confronting Stony Brook. In his free time, Tobi enjoys working with kids in his church and playing basketball at the rec.
---
Gabriela Dominguez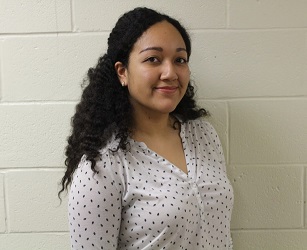 Gabriela is a junior from Yonkers, New York. She is majoring in Biology with a specialization in Interdisciplinary Biology. She is also minoring in Anthropology and Health & Wellness. Gabriela is currently working in Dr. Maricedes Acosta's laboratory, where she is studying the role of microglia in health and disease. As a student on the pre-health track, Gabriela incorporates her research experience into discerning how to develop advances towards proper patient care and education as a future healthcare provider. Aside from research, she is involved in her campus community, having served multiple positions as a teaching assistant and for various organizations. Currently, she is serving as a member on Dean's Student Advisory Council, as well as Executive Assistant for Circle K International.
---
Paul Boasiako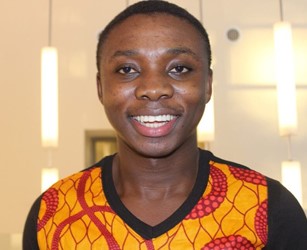 Paul Boasiako is a rising senior majoring in Clinical Laboratory Science and a pre-med track student. Paul attended high school in Ghana at Akumfi Ameyaw Senior High School and graduated from Mott Hall Bronx High School in Bronx, New York City. Currently, Paul is conducting research in Dr. Lina Obeid and Dr. Yusuf Hannun's lab in Stony Brook Medicine. Paul works with Dr. Ashley Snider who is examining the role and regulation of sphingolipid metabolizing enzymes and their lipid products in the pathobiology of inflammation. Paul also works with Prof SongHwa Choi to examine the effect of Fatty Acids on ER Stress. Aside from research, Paul holds multiple positions on campus-based clubs, organizations and founded an organization called Scholars in Our Society and Africa (SOSA). SOSA's aim is to provide quality education to students in underserved communities in Ghana. Paul is passionate about helping others and his utmost goal is to contribute to cancer research to impact others' lives.
---
Jemima Morgan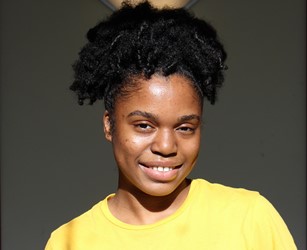 Jemima Morgan is a light-hearted art lover from Yonkers, New York. She is a junior majoring in Biology while maintaining a minor in Spanish. She is currently on the pre-dental track where she aims to attend dental school and earn her DDS certification. In addition to her studies, Jemima is apart of LITE Laboratory at the Stony Brook School of Dental Medicine. There she conducts research, under Dr. David K. Lam, to understand the role of protease activated receptors in chronic cancer pain. During her free time, Jemima loves to relax by either painting or singing christian songs.
---
Chinyere "Julie" Nwaogbe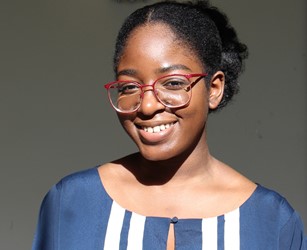 Julie (Chinyere) is a first generation American of Nigerian descent from Elmont in Nassau County, New York. As a rising junior, she is majoring in Biology and minoring in Health, Medicine and Society. Julie is also on the pre-health track and hopes to become a doctor. In Dr. Grace Gathungu's lab, she is working on the preclinical studies for an anti-inflammatory drug called "quercetin" in colitis/cancer models. She is heavily involved in campus life, serving as Vice President for the African Students Union and the Black Student Union, as well as Public Relations Chair for the Adventist Youth Ministry. In her free time, she enjoys watching Grey's Anatomy.
---
Bismark Owusu Frimpong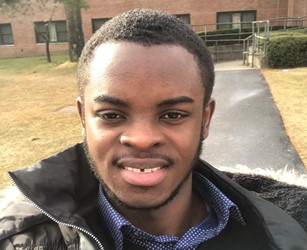 Bismark is a rising junior majoring in Biology and on the pre-med track. Born in Ghana, Bismark moved to the U.S. a couple of years ago and got accepted into Stony Brook University as a transfer student. He is currently working under the mentorship Dr. Sandeep Mallipattu, whose research focuses on establishing the physiological and pathophysiological functions of Kruppel-like factors in various disease processes. Aside research, Bismark provides tutoring help in the Physics Help room and has also been a TA for introductory Bio courses. In his spare time, Bismark enjoys cycling, watching sports documentaries and comedy shows.
---
Malik Tranquille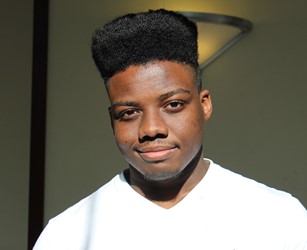 Malik is a rising junior from Brooklyn, NY. He is majoring in biochemistry and minoring in biomedical engineering with a specialization in Molecular/Cellular Bioengineering. He attended Xaverian High School in Brooklyn and has volunteered at Staten Island University Hospital during his high school years. He is currently conducting research in the lab of Dr. Chioma Okeoma under the mentorship of PhD candidate Folnetti Alvarez. As part of the team, he is studying BST-2 and its possible oncogenic properties. Malik intends to enroll, after graduation, into a PhD program to conduct research in cancer and other chronic diseases. He is an active member of UNESCO Center for Global Friendship, a nonprofit organization where he helps collect library materials to be donated to schools in under-developed countries. In his free time, Malik enjoys exercising, listening to music and learning Japanese.
2018 INDUCER FELLOWS
---
Doreen Dadson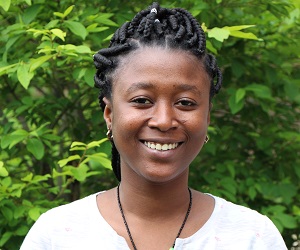 Doreen is a senior studying biology with a neuroscience specialization. She was born in Ghana and moved to the U.S. a few years ago. She got accepted into Stony Brook University through the EOP/AIM program and is a member of the National Society of Collegiate Scholars. Doreen is a self-motivated student, who is dedicated to her school work and enjoys helping fellow students on her free time. For a year, she volunteered as a TA for the Chemistry department. She loves watching action movies and hangs out with friends on her free time. Currently, she is working in Dr. Maya Shelly's lab at Stony Brook Medicine in a study to better understand the critical events in neuronal polarization during normal development and in disease pathologies.
---
Emmaly Gutierrez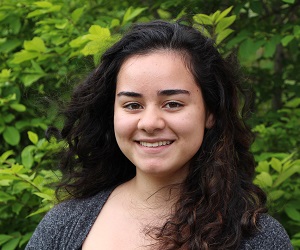 Emmaly Gutierrez is a senior originally from Bronx, NY. She is an interdisciplinary biology major hoping to achieve her medical degree with a specialization in pediatric emergency medicine. She is currently conducting research under the mentorship of Dr. Patricia Thompson-Carino. Dr. Thompson-Carino's research focuses on the evolution of molecular and cellular changes that occur during the development of breast and colorectal cancer. Emmaly is the president of the Stony Brook Belly Dance Club and spends most of her free time working out at the gym.

---
Maame Gyamfi

As a senior at Stony Brook University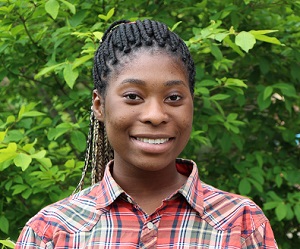 , Maame Gyamfi is majoring in Psychology with the aspiration to go to Medical School and later become a Neurosurgeon. She is very excited and thrilled to work with her mentors. Maame is also a member of the EOP/AIM program that aided her entry into Stony Brook University. At the age of 8, Maame and her siblings came to the New York to reunite with their parents and make a living in the U.S. Although it was difficult to adapt to the new culture and morals of the United States, she balanced both cultures and advanced in life with them. Maame likes and enjoys the Korean culture music, fashion, food, and dramas and because of that she took a year of Korean language and will continue to the intermediate level in fall 2018. One of her goals is to travel to South Korea and partake and experience for herself the excitement and variety of the country. Wanting to become more open-minded and aware of her surroundings, Maame sort sought to make friends with people from different countries. She says that when we see the world not from our own lenses but from others, we begin to appreciate the goodness of perspective and point of view. In High school, Maame was given the opportunity to conduct research in Dr. Mallikaratchy's Lab in Lehman College. She worked with Nucleic Acid Aptamers, Fluorescent tags and Quenchers to monitor DNA hybridization and if a molecule has been attached to its target. Currently, she is working in Dr. Dr. Styliani-Anna Tsirka's lab at Stony Brook Medicine in a study to better understand the initiation and early detection of glioblastomas. She hopes to increase her knowledge and experience through the INDUCER Program.
---
Rideeta Raquib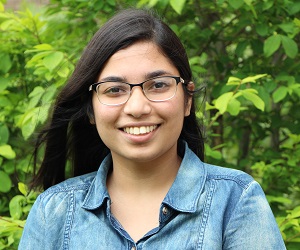 Rideeta graduated in 2019 with a Bachelor's of Science degree in Biology and plans to pursue an MD/PhD in pediatric oncology. She served as the vice president of community service for the National Society of Collegiate Scholars, a writer for the Stony Brook Young Investigators Review, an e-board member for the Synthetic Biology Society, and holds the title of SSO (Science and Society) Forever Fellow. She participated in International Genetically Engineered Machine (iGEM), a synthetic biology research competition during the spring semester of sophomore year and throughout junior year. She conducted research in Dr. Lina Obeid's lab at Stony Brook Medicine on the sphingolipid, ceramide, which regulates cell apoptosis and can play a role in increasing the efficacy of chemotherapeutics. A true traveler at heart, Rideeta grew up in Malaysia and learned the Hindi and Russian alphabets. She also loves painting and cooking during her spare time.

---
Tiana Reyes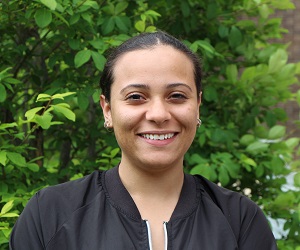 Tiana was born in Williamsburg, Brooklyn and moved to East Meadow, Nassau County when she was 11. She attended Nassau Community College. In the summer 2017, she was accepted into the BioPrep Program. In BioPREP, she worked in the lab of Dr. Jennie Williams assessing the efficacy of novel Vanadium and Ruthenium based chemotherapeutics in the treatment of malignant melanoma. She transferred to SBU in the spring of 2018. She was accepted into the INDUCER Program and conducts research in Dr. Williams' lab that focuses on biomarker discovery for early detection of lung cancer. In her free time, Tiana enjoys listening to music, exercising, and watching the television show "The Office."
---
Maryam Tayyab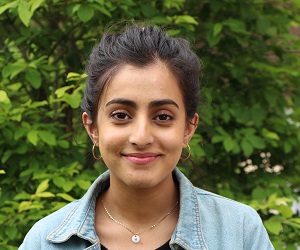 Maryam Tayyab is an undergraduate student. She majors in Biology, aspiring to have a specialization in Neuroscience and a minor is in Health, Medicine & Society. Maryam is currently on the pre-med route. While studying for her degree, she is simultaneously involved in volunteering at Stony Brook Medical Hospital and conducting research under Dr. Styliani-Anna E. Tsirka. As part of her studies in Dr. Tsirka's laboratory, Maryam's research is to better our understanding and detection of glioblastomas. In her free time, she enjoys listening to music and watching endless amounts of TV shows.
---