Nuri Kim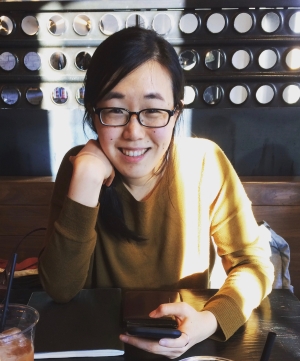 Education:
B.A. University of California, Berkeley (2011)
Current Position:
7th Year MSTP
5th Year Grad Student
Advisor:
Jessica C. Seeliger, PhD, Dept. of Pharmacology
Graduate Program:
Genetics
Research Interests:
Different organisms have been shown to preferentially use some codons over others that encode the same amino acid. Much work has been done to investigate the degeneracy of the genetic code and prevalence of codon usage bias. The literature suggests that rare codons may influence mRNA structure, degradation, and protein translation, although precise functions and mechanisms remain unclear. Codon pair bias is a similar yet distinct phenomenon where species exhibit pairs of specific codons more frequently than other synonymous pairings. Rare pairings have been shown to significantly attenuate protein expression in eukaryotes and prokaryotes. We are interested in elucidating the mechanisms underlying this attenuation in Mycobacteria. This research may afford new insights into bacterial translation as well as strategies for developing vaccines or antimicrobial drugs against Mycobacteria.
Publications:
Aguirre-Chen C, Stec N, Ramos OM, Kim N, Kramer M, McCarthy S, Gillis J, McCombie WR, Hammell CM. A Caenorhabditis elegans Model for Integrating the Functions of Neuropsychiatric Risk Genes Identifies Components Required for Normal Dendritic Morphology. (2020) G3 May;10(5):1617-28.
Kim JY, Kim N, Lee JE, Yenari MA. Hypothermia Identifies Dynamin as a Potential Therapeutic Target in Experimental Stroke. (2017) Ther Hypothermia Temp Manag Sep;7(3):171-7
Kim JY, Kim N, Zheng Z, Lee JE, Yenari MA. 70-kDa Heat Shock Protein downregulates dynamin in experimental stroke: a new therapeutic target? (2016) Stroke Aug;47(8):2103-11.
Kim JY, Kim N, Yenari, MA. Mechanisms and potential therapeutic applications of microglial activation after brain injury. (2015) CNS Neurosci Ther Apr;21:309-19
Kim N, Kim JY, Yenari MA. Pharmacological induction of the 70-kDa heat shock protein protects against brain injury. (2015) Neuroscience Jan;284:912-9
Kim JY, Ho H, Kim N, Liu J, Tu CL, Yenari MA, Chang W. Calcium-sensing receptor (CaSR) as a novel target for ischemic neuroprotection. (2014) Ann Clin Transl Neurol Nov;1:851-66.
Kim JY, Kim N, Zheng Z, Lee JE, Yenari MA. The 70 kDa heat shock protein protects against experimental traumatic brain injury. (2013) Neurobiol Dis Jun;58C:289- 295.
Kim JY, Kim N, Yenari MA, Chang W. Hypothermia and pharmacological regimens that prevent overexpression and overactivity of the extracellular calcium-sensing receptor protects neurons against traumatic brain injury. (2013) J Neurotrauma Jul;30(13):1170-6.
Kim N, Kim JY, Yenari MA. Anti-inflammatory properties and pharmacological induction of Hsp70 after brain injury. (2012) Inflammopharmacology Jun;20(3):177-85. Review.
Kim JY, Kim N, Yenari MA, Chang W. Mild hypothermia suppresses calcium-sensing receptor induction following forebrain ischemia while increasing GABA-R-1 receptor 1 expression. (2011) Transl Stroke Res Jun;2(2):195-201.