Introduction
Renaissance School of Medicine at Stony Brook University, in conjunction with Cold Spring Harbor Laboratory (CSHL) and Brookhaven National Laboratory (BNL), sponsor a medical scientist training program (MSTP). The purpose of the MSTP, partially funded by a competitive grant from the National Institutes of Health, is to train academic medical scientists for both research and teaching in medical schools and research institutions. Graduates of this program are equipped to study major medical problems at the basic level, and at the same time, to recognize the clinical significance of their discoveries.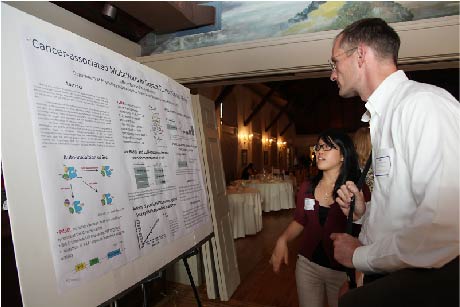 The program offers diversity and flexibility that permit the design of individualized educational opportunities to meet the needs of students with varied interests, backgrounds, and career goals. Medical training is provided by the Renaissance Medicine. Research training is provided by the combined faculties of SBU, CSHL, and BNL. Faculty research interests include:
AIDS including molecular biology, virology, pharmacology and epidemiology
Biomedical engineering including stem cell therapy, nanotechnology, biomaterials/biomechanics, biosensors, bionanotechnology, medical instrumentation and imaging, tissue engineering and biomedical modeling
Biomedical informatics

Cancer biology
Cell structure and function including organelle biogenesis, cell cycle, differentiation, transformation and extracellular matrix
Cellular, molecular and systems neurobiology
Cellular immunology
Developmental biology and genetics
Endocrinology including programs in diabetes and obesity
Gene therapy
Glycobiology
Imaging technologies
Lyme disease, bacterial pathogenicity
Membrane biology and biophysics including ion channels, ion transport, excitability and cell-cell communication
Molecular biology and genetics including DNA replication, regulation of gene expression, and protein transport
Molecular Cardiology and hematology
Molecular modeling
Molecular virology
Neuropharmacology
Neural circuits and behavior
Neurological disease models
Signal transduction
Structural biology and physical biochemistry of proteins and nucleic acids
Vertebrate morphology including systematics, paleoprimatology and paleoanthropology
Vision
---
Requirements for Completion
Students must earn both an M.D. as well as a Ph.D. Both the M.D. and Ph.D. programs of study are specifically tailored to meet the needs and goals of the MSTP dual-degree track.
---
Required Time
The average time required to complete both degrees is seven to eight years. On occasion, an MSTP Fellow will finish in six years.