Rajapillai L. I. Pillai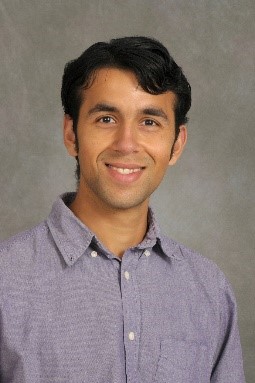 B.A. Yale University (2012)
MD/PhD Stony Brook University (2020)
Advisor:
Ramin Parsey, MD,PhD
Department:
Psychiatry, Stony Brook University
Graduate Program:
Neuroscience
Title:
The Role of the Serotonin 1A Receptor in Mood Disorders

Abstract:
Major Depressive Disorder (MDD) is a heterogeneous and debilitating disorder. As of now, there is no reliable biomarker for this disorder, either for diagnosis or prediction of treatment response. The serotonin 1A (5-HT1A) receptor has been shown through animal, post-mortem, and in vivo human studies to be elevated in mood disorders such as MDD, and thus may be a promising biomarker. In my research, I aim to explore this receptor and the serotonin system in order to better understand MDD pathophysiology and to establish tools for future research and clinical use through use of position emission tomography (PET), magnetic resonance imaging (MRI), and electroencephalography (EEG).
Awards:
Citizenship Award, 2020
Gold Foundation Humanism Honor Society, 2020
Kristin Harris Award (Psych), 2020
Stony Brook HOME Student Service Award, 2020
Gold Humanitarian Honor Society Member, 2019
Ruth L. Kirschstein National Research Service Award F30 Fellowship (Grant No. F30MH109412), 2016-2020
Second Place Winner, Three-Minute Thesis Competition, 2017 https://www.youtube.com/watch?v=Lgp-mgKt5a8
MD/PhD Student Conference Diversity Travel Award, 2017
Society of Biological Psychiatry Chair's Choice Award Recipient, 2016.
NIMH MD/PhD Student Conference and Molecular Psychiatry Travel Award Recipient, 2015
Stony Brook School of Medicine Community Service Award, 2014
Publications:
Pillai RLI, Bartlett EA, Ananth MR, Zhu C, Yang J, Hajcak G, Parsey RV, DeLorenzo C. Examining the underpinnings of loudness dependence of auditory evoked potentials with positron emission tomography. NeuroImage 213 (2020): 116733.

Roselaar N, Pillai RLI, Kirschen GW, Patnaik A, Maramara B, Tolentino J. Left-Sided Headache in a Salvadorian Woman. Infectious Diseases in Clinical Practice 28(4) (2020): 247-249.

Pillai RLI. We all need a little TLC: an argument for an increased role of Child Life Services in patient care and medical education. Accepted for publication in Hospital Pediatrics.

Pillai RLI, Butchart L, Hill KR, Lazarus Z, Patel R, Yan LE, Kenyon LJ, Post SG. You're Not Alone: Sharing of Anonymous Narratives to Destigmatize Mental Illness in Medical Students and Faculty. Academic Psychiatry 44(2) (2019): 223-226.

Pillai RLI, Tipre D. Metabotropic Glutamate Receptor 5 – A Potential Target in Drug Development and Neuroimaging. European journal of nuclear medicine and molecular imaging 43.6 (2016), 1151-1170
Pillai RLI, Malhotra A, et al. Relations between cortical thickness, serotonin 1A receptor binding, and structural connectivity: A multimodal imaging study. Human brain mapping 39(2) (2018), 1043-1055.
Pillai RLI, Zhang M, et al. Will imaging individual raphe nuclei in males with major depressive disorder enhance diagnostic sensitivity and specificity? Depression and anxiety 35(5) (2018), 411-420.
Pillai RLI, Zhang M, Yang J, Mann JJ, Oquendo MA, Parsey RV, Delorenzo C. Molecular Connectivity Disruptions in Males with Major Depressive Disorder. Journal of Cerebral Blood Flow and Metabolism 39(8) (2019), 1623-1634.
Pillai RLI, Huang C, Labella A, et al. Examining raphe-amygdala structural connectivity as a biological predictor of SSRI response. Journal of Affective Disorders 256 (2019), 8-16.
Posters:
Pillai RLI, Malhotra A, Rupert DD, et al. Relations Between Cortical Thickness, Serotonin 1A Receptor Binding, and Structural Connectivity: A Multimodal Imaging Study. Neuroscience 2017
Pillai RLI, Zhang M, Yang J, et al. Loudness Dependence of Auditory Evoked Potentials as a Surrogate for Serotonin Imaging: Validation with Positron Emission Tomography. Psychophysiological Research 2017
Pillai RLI, LaBella A, Zhang M et al. Raphe-Amygdala Connectivity as a Biological Predictor of SSRI Response. MD/PhD Student Conference 2017
Pillai RLI, Zhang M, Yang J, et al. PET Imaging of Individual Raphe Nuclei in Major Depressive Disorder: Physiologic Insight and Diagnostic Utility. Biological Psychiatry 2017
Pillai RLI, DeLorenzo C, Oquendo MA et al. Molecular Connectivity: A Novel Biomarker for Major Depression. Neuroreceptor Mapping 2016
Pillai RLI, Mann JJ, Oquendo MA et al. Molecular Connectivity Disruptions in Major Depression: A [11C]WAY100635 Study. Biological Psychiatry 2016
Published Plays:
Ronnie Tumbler Gets Her Goat: http://www.lazybeescripts.co.uk/Scripts/script.aspx?iSS=3218
The Secret of Buccaneer Bay: http://www.lazybeescripts.co.uk/Scripts/script.aspx?iSS=3228