Deborah D. Rupert
Education: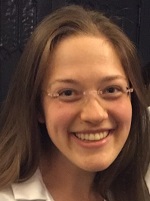 B.A., Psychology; Concentration, Neuroscience, Carleton College (2011)
M.S., Human Nutrition, Columbia University (2012)
M.A., Biotechnology, Columbia University (2015)
Current Position:
7th Year MSTP
5th Year Grad Student
Advisor:
Stephen Shea, PhD
Graduate Program:
Neuroscience
Research Interest:
My interests lie in understanding the pathophysiology behind neuropsychiatric disease, particularly autism spectrum disorders, anxiety, and schizophrenia. These disorders have been shown to share genetic risk with each other. Rare de novo copy number variations and single nucleotide polymorphisms common among patients of these disorders further converge around common pathways and gene families- involved in neuronal signaling, synaptic function, and chromatin regulation. I am especially interested in understanding how such genetic and molecular commonalities across neuropsychiatric disease can help us understand where these diseases diverge, leading to greatly varying phenotypes. Ultimately, such an understanding could help refine diagnostic criteria, develop predictive biomarkers, and identify "druggable" targets for therapies.
Awards:
2018-2020 Autism Speaks Royal Arch Mason Pre-doctoral Research Fellowship
2020 NYU Winthrop Student-run Health Clinic (WiSH) Community Service Award
Publications:
Rupert, D, Nowlan, A, Tam, O, and Hammell, M (2020). Ten simple rules for running a
successful women-in-STEM organization on an academic campus. PLOS Computational
Biology. DOI: .10.1371/journal.
Rupert, D, Jones, T, and Young, R (2019). Man with long-standing, well controlled multiple sclerosis presents with two episodes of acute psychosis. Psychiatric Annals. 49(1): 33-35.
Pillai, R, Malhotra, A, Rupert, D, Weschler, B, Williams, J, Zhang, M, Yang, J, Mann, J,
Oquendo, M, Parsey, R, and DeLorenzo, C (2017). Relations between cortical thickness,
serotonin 1A receptor binding, and structural connectivity: A multimodal imaging study. Journal
of Human Brain Mapping. DOI:10.1002/hbm.23903.
Neiworth, J, London, J, Flynn, M, Rupert, D, Alldritt, O. and Hyde, C (2017). Artificial
grammar learning in tamarins depends on the stimulus context. Journal of Comparative
Psychology. 131(2): 128–138. doi:10.1037/com0000066.
Shair, H, Rupert, D, Rosko, L, Hofer, M, Myers, M, and Welch, M, (2015). Effects of maternal
deprivation and the duration of reunion time on rat pup ultrasonic vocalization responses to
isolation: possible implications for human infant studies. Developmental Psychobiology. 57(1),
63-72.
Neiworth, J, Whillock, K, Kim, S. H, Greenberg, J, Jones, K, Patel, A, Steefel-Moore, D, Shaw,
A, Rupert, D, Gauer, J, and Kudura, A, (2014). Gestalt principle use in college students,
children with autism, toddlers (Homo sapiens), and cotton top tamarins (Saguinus oedipus).
Journal of Comparative Psychology. 128(2), 188-198.