Thomas Kim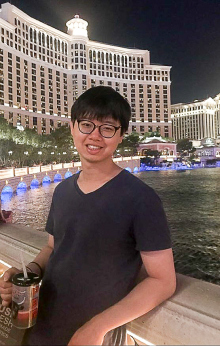 Education:
B.S. University of California, Berkeley (2017)
Current Position:
4th Year MSTP
2nd Year Grad Student
Advisor:
Shaoyu Ge, PhD, Neurobiology & Behavior
Graduate Program:
Neuroscience
Research Interest:
In general, I am interested in using stem cells as a therapeutic approach to disease models, especially using mice. My previous research experience has had a diverse range of subjects. During my undergraduate years, I focused on the bi-directional cell fate potential in pluripotent stem cells, identifying that the deficiency of microRNA-34a expanded cell fate potential. After graduation, I also conducted research on investigating the inhibitory interneuronal dysfunction in Alzheimer's disease by targeting interneurons as a therapeutic approach using cell therapy, genetics, drugs, and optogenetic applications. I hope to further my studies in both neuroscience and stem cells in mouse disease models during my time at Stony Brook.
Publications:
Chen, A.P., Chen, L., Kim, T. A., Xiong, Q. Integrating the Roles of Midbrain Dopamine Circuits in Behavior and Neuropsychiatric Disease. Biomedicines, 9(6), 647 (2021). Doi: 10.3390/biomedicines9060647
Kim, T. A., Chen, L., Ge, S. The Interplay of Neurovasculature and Adult Hippocampal Neurogenesis. Neuroscience letters, 136071. (2021) doi: 10.1016/j.neulet.2021.136071; PMID: 34147540.
Hanson, J. E.*, Ma, K.*, Elstrott, J.*, Weber, M.*, Saillet, S.*, Khan, A. S., Simms, J., Liu, B., Kim, T. A., Yu, G. Q., Chen, Y., Wang, T. M., Jiang, Z., Lieder, B. M., Deshmukh, G., Solanoy, H., Chan, C., Sellers, B. D., Volgraf, M., Schwarz, J. B., Hackos, D. H., Weimer, R. M., Sheng, M., Gill, T. M., Scearce-Levie, K., Palop, J. J. GluN2A NMDA Receptor Enhancement Improves Brain Oscillations, Synchrony, and Cognitive Functions in Dravet Syndrome and Alzheimer's Disease Models. Cell Report. doi: 10.1016/j.celrep.2019.12.030.
Choi, Y. J.*, Lin, C. P.*, Risso, D.*, Chen, S., Kim, T. A., Than, M. H., Li, J. G., Wu, Y., Chen, C., Xuan, Z., Macfarlan, T., Peng, W., Lloyd, K. K., Kim, S. Y., Speed, T. P., He, L. Deficiency of microRNA miR-34a expands cell fate potential in pluripotent stem cells. Science355, 596 (2017). doi: 10.1126/science.aag1927; pmid:22020437 (*equal contribution)