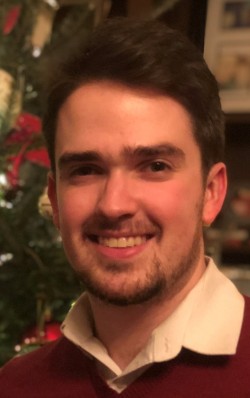 Luke Torre-Healy
Education:
B.A. Vanderbilt University (2015)
Current Position:
5th Year MSTP
3rd Year Grad Student
Advisor:
Richard Moffitt
Graduate Program:
Biomedical Informatics
Research Interest:
 My broad research interest is in the identification of novel treatment paradigms for cancer. My prior work has been focused on the targeting of Cancer Stem Cells (CSC) as a therapeutic avenue for cancer, mainly through repurposing FDA approved drugs and screening for efficacy in down regulating stemness markers and decreasing CSC viability. That work will hopefully culminate in combination therapies using upwards of two inhibitors to synergistically attack CSCs. This methodology is likely applicable to all organ systems and cancers, but thus far has been pursued in glioblastoma, breast cancer, and ovarian cancer.
Moving forward, I hope to robustly interrogate potential weak points in Pancreatic Ductal Adenocarcinoma by leveraging bioinformatic approaches including spatial transcriptomics and deep learning to improve our understanding of the molecular subtypes.
Publications:
 *Kawalerski R, *Torre-Healy L, Oh K, ... Moffitt RA, pdacR: Curation and analysis of pancreatic ductal adenocarcinoma gene expression data supports a two-subtype model and enables community exploration. Submitted July 2021 - Nature Cancer
**Camolotto SA, Belova V, Torre-Healy L, Vahrenkamp J, Berrett K, Conway H, Stubben C, Moffitt R, Gertz J, Snyder E. Reciprocal regulation of pancreatic ductal adenocarcinoma growth and molecular subtype by HNF4α and SIX1/4. Gut. Accepted May 2020.
**Le H, Gupta R, Hou L, Abousamra S, Fassler D, Torre-Healy L, Moffitt RA, Kurc T, Samaras D, Batiste R, Zhao T. Utilizing Automated Breast Cancer Detection to Identify Spatial Distributions of Tumor Infiltrating Lymphocytes in Invasive Breast Cancer. The American Journal of Pathology. 2020 Apr 8.
Mulkearns-Hubert EE*, Torre-Healy LA*, Silver DJ, Eurich JT, Serbinowski E, Hitomi M, Zhou J, Przychozden B, Zhang R, Sprowls SA, Hale JS, Alban T, Berezovsky A, Bell BA, Lockman PR, Jha BK, Lathia JD Development of a Cx46 targeting strategy for cancer stem cells Published April 2019 – Cell Reports
Esakov E, Hale J, Richards E, Torre-Healy L, Gullapalli K, Trivedi D, Wessely O, Jensen J, Lathia JD, Reizes O. Therapeutic strategies to induce ERα in luminal breast cancer to enhance tamoxifen efficacy Published June 2019 – Endocrine Related Cancer
Thiagarajan PS, Sinyuk M, Turaga SM, Mulkearns-Hubert EE, Hale JS, Rao V, Demelash A, Saygin C, China A, Alban TJ, Hitomi M, Torre-Healy LA, Alvarado AG, Jarrar A, Wiechert A, Adorno-Cruz V, Fox PL, Calhoun BC, Guan JL, Liu H, Reizes O, Lathia JD. Cx26 drives self-renewal in triple-negative breast cancer via interaction with NANOG and focal adhesion kinase. Published Feb 2018 – Nature Communications
Cooper M, Torre-Healy LA, Alentado V, Benzel E, Mroz T. Heterogeneity of Reporting Outcomes in Spine Surgery Research. Published Jan 2018 – Journal of Clinical Spine Surgery
Dashzeveg NK, Taftaf R, Ramos EK, Torre-Healy L, Chumakova A, Silver DJ, Alban TJ, Sinyuk M, Thiagarajan PS, Jarrar AM, Turaga SM, Saygin C, Mulkearns-Hubert E, Hitomi M, Rich JN, Gerson SL, Lathia JD, Liu H.New advances and challenges of targeting cancer stem cells. Published Oct 2017 – Cancer Research
Torre-Healy LA, Chan CH. Just how critical is Epithelial-to-Mesenchymal Transition (EMT) to Metastatic Dissemination? Published Aug 2017 - J Pharm Sci Exp Pharmacol (Editorial)
Ma Y, Cheng Z, Liu J, Torre-Healy L, Lathia JD, Nakano I, Guo Y, Thompson RC, Freeman ML, Wang J. Inhibition of farnesyltransferase synergistically improves Notch-targeted therapy against glioblastoma stem cells Published Dec 2017 – Stem Cell Reports
Chernov M, Chen G, Torre-Healy LA, Friedman R, Roe AW. Microelectrode array stimulation combined with intrinsic optical imaging: A novel tool for functional brain mapping. Published Apr 2016 – Journal of Neuroscience Methods
Torre-Healy LA, Berezovsky A, Lathia JD. Isolation, Characterization, and Expansion of Cancer Stem Cells Published Jan 2016 – Methods of Molecular Biology: Book Chapter