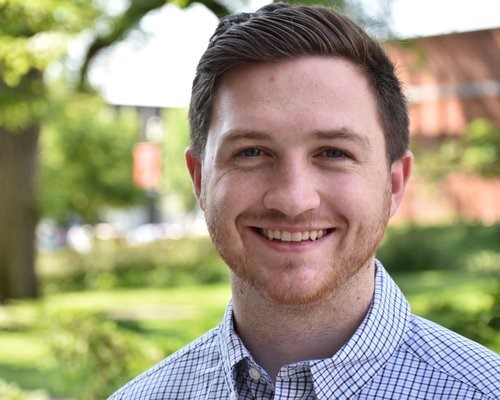 Timothy Maher
Education:
B.S. Wagner College (2018)
Current Position:
2nd Year MSTP
2nd Year Medical Student
Advisor:
TBA
Graduate Program:
TBA
Research Interest:
I am interested in immunology and gaining a better understanding of the role of T cells in autoimmune diseases. I also am interested in unraveling the genetic susceptibility to autoimmune diseases and environmental factors that may trigger development with the goal of identifying potential preventative therapies and improve overall treatment of patients with autoimmune diseases. My previous research has focused on the relationship between antibiotic-induced perturbation of the microbiome and asthma pathogenesis, on surveying fungal diversity in the soil in Ireland, and most recently on patients suffering from rare genetic immune disorders. I helped identify the first patient with Inactivated PI3Kγ Syndrome, and also focused on three male patients with early-onset autoinflammatory disease caused by deficiency in the transcription factor ELF4. Outside of the lab, I enjoy hanging with my dog Rylie, golfing, watching football, and spending time with my friends and family.
Publications:
Tyler PM, Bucklin ML, Zhao M, Maher TJ, Rice AJ, Ji W, Warner N, Pan J, Morotti R, McCarthy P, Griffiths A, van Rossum AMC, Hollink IHIM, Dalm VASH, Catanzaro J, Lakhani SA, Muise AM, Lucas CL. Human autoinflammatory disease reveals ELF4 as a transcriptional regulator of inflammation. Nature Immunology. 2021 Sep;22(9):1118-1126. doi: 10.1038/s41590-021-00984-4. Epub 2021 Jul 29. PMID: 34326534.
Takeda AJ*, Maher TJ*, Zhang Y, Lanahan SM, Bucklin ML, Compton SR, Tyler PM, Comrie WA, Matsuda M, Olivier KN, Pittaluga S, McElwee JJ, Long Priel DA, Kuhns DB, Williams RL, Mustillo PJ, Wymann MP, Koneti Rao V, Lucas CL. Human PI3Kg deficiency and its microbiota-dependent mouse model reveal immunodeficiency and tissue immunopathology. Nature Communications. 2019 Sep 25; 10(1):4364. doi: 10.1038/s41467-019-12311-5. (*Equal Contribution)

Venkatesh A, Murray AL, Boyle AB, Quinn Farrington L, Maher TJ, Ó'Gaora P, Wolfe KH, O'Brien CE, Butler G. Draft genome sequence of a highly heterozygous yeast from the Metschnikowia pulcherrima subclade, UCD127. Genome Announcements. 2018 Jun 21; 6(25):e00550-18. doi: 10.1128/genomeA.00550-18