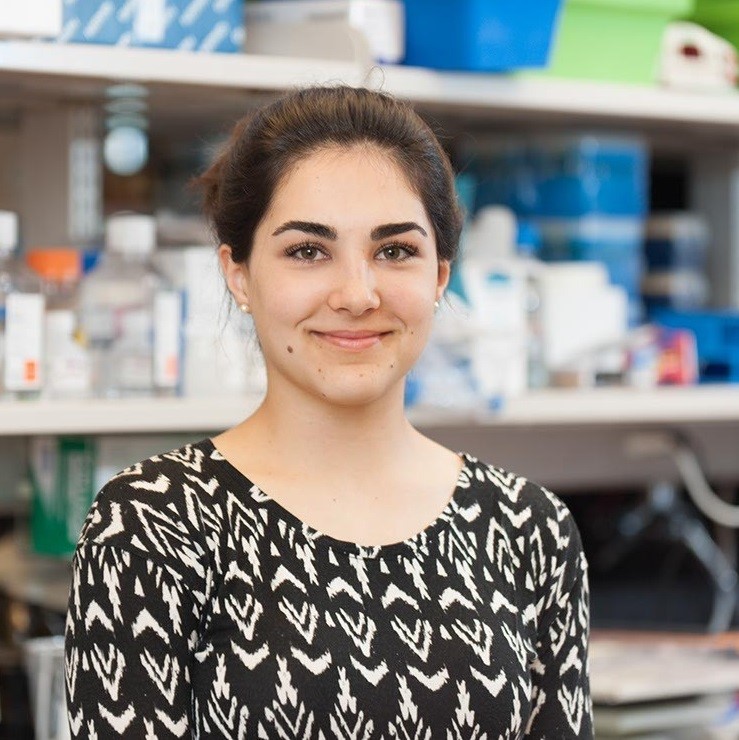 Sophie Shifman
Education:
B.A. Rutgers University (2018)
Current Position:
2nd Year MSTP
2nd Year Medical Student
Advisor:
TBA
Graduate Program:
TBA
Research Interest:
In general, cells and the brain are two fields of study I find fascinating. My research experience in both cancer biology and neuroscience has driven my aspiration to combine the two fields in my future work as a physician scientist. My previous research has focused on elucidating the effects of antidepressant on neurogenesis in the hippocampus and behavior of female mice across their reproductive cycle, on revealing cellular mechanisms in various cancer histologies of resistance to therapy through the MAPK pathway and of feedback inhibition within the PI3K pathway, and on investigating new approaches in targeted and combinational therapies for tumors resistant to conventional treatment. Going forward, I hope to bring my interests together in studying mechanisms of cancer in the brain and the systemic and psychological effects thereof in cell and animal models.
Publications:
Cocco E, Lee JE, Kannan S, Schram AM, Won HH, Shifman S, Kulick A, Baldino L, Toska E, Arruabarrena-Aristorena A, Kittane S, Wu F, Cai Y, Arena S, Mussolin B, Kannan R, Vasan N, Gorelick AN, Berger MF, Novoplansky O, Jagadeeshan S, Liao Y, Rix U, Misale S, Taylor BS, Bardelli A, Hechtman JF, Hyman DM, Elkabets M, De Stanchina E, Verma CS, Ventura A, Drilon A, Scaltriti M. TRK xDFG Mutations Trigger a Sensitivity Switch from Type I to II Kinase Inhibitors. Cancer Discov. January 1 2021 (11) (1) 126-141; DOI: 10.1158/2159-8290.CD-20-0571
Li BT, Michelini F, Misale S, Cocco E, Baldino L, Cai Y, Shifman S, Tu HY, Myers ML, Xu C, Mattar M, Khodos I, Little M, Qeriqi B, Weitsman G, Wilhem CJ, Lalani AS, Diala I, Freedman RA, Lin NU, Solit DB, Berger MF, Barber PR, Ng T, Offin M, Isbell JM, Jones DR, Yu HA, Thyparambil S, Liao WL, Bhalkikar A, Cecchi F, Hyman DM, Lewis, JS, Buonocore DJ, Ho AL, Makker V, Reis-Filho JS, Razavi P, Arcila ME, Kris MG, Poirier JT, Shen R, Tsurutani J, Ulaner GA, de Stanchina E, Rosen N, Rudin CM, Scaltriti M. HER2-Mediated Internalization of Cytotoxic Agents in ERBB2 Amplified or Mutant Lung Cancers. Cancer Discov. 2020 May;10(5):674-687. doi: 10.1158/2159- 8290.CD-20-0215. Epub 2020 Mar 25. PMID: 32213539; PMCID: PMC7196485.
Yohn CN, Shifman S, Garino A, Diethorn E, Bokka L, Ashamalla SA, Samuels BA. Fluoxetine effects on behavior and adult hippocampal neurogenesis in female C57BL/6J mice across the estrous cycle. Psychopharmacology (Berl). 2020 May;237(5):1281- 1290. doi: 10.1007/s00213-020-05456-5. Epub 2020 Jan 21. PMID: 31965254; PMCID: PMC7196514.
Rosen EY, Goldman DA, Hechtman JF, Benayed R, Schram AM, Cocco E, Shifman S, Gong Y, Kundra R, Solomon JP, Bardelli A, Scaltriti M, Drilon A, Iasonos A, Taylor BS, Hyman DM. TRK Fusions Are Enriched in Cancers with Uncommon Histologies and the Absence of Canonical Driver Mutations. Clin Cancer Res. 2020 Apr 1;26(7):1624-1632. doi: 10.1158/1078-0432.CCR-19-3165. Epub 2019 Dec 23. PMID: 31871300; PMCID: PMC7124988.
Cocco E, Schram AM, Kulick A, Misale S, Won HH, Yaeger R, Razavi P, Ptashkin R, Hechtman JF, Toska E, Cownie J, Somwar R, Shifman S, Mattar M, Selçuklu SD, Samoila A, Guzman S, Tuch BB, Ebata K, de Stanchina E, Nagy RJ, Lanman RB,
Houck-Loomis B, Patel JA, Berger MF, Ladanyi M, Hyman DM, Drilon A, Scaltriti M. Resistance to TRK inhibition mediated by convergent MAPK pathway activation. Nat Med. 2019 Sep;25(9):1422-1427. doi: 10.1038/s41591-019-0542-z. Epub 2019 Aug 12. PMID: 31406350; PMCID: PMC6736691.
Toska E, Castel P, Chhangawala S, Arruabarrena-Aristorena A, Chan C, Hristidis VC, Cocco E, Sallaku M, Xu G, Park J, Minuesa G, Shifman SG, Socci ND, Koche R, Leslie CS, Scaltriti M, Baselga J. PI3K Inhibition Activates SGK1 via a Feedback Loop to Promote Chromatin-Based Regulation of ER-Dependent Gene Expression. Cell Rep. 2019 Apr 2;27(1):294-306.e5. doi: 10.1016/j.celrep.2019.02.111. PMID: 30943409;
Cocco E, Javier Carmona F, Razavi P, Won HH, Cai Y, Rossi V, Chan C, Cownie J, Soong J, Toska E, Shifman SG, Sarotto I, Savas P, Wick MJ, Papadopoulos KP, Moriarty A, Cutler RE Jr, Avogadri-Connors F, Lalani AS, Bryce RP, Chandarlapaty S, Hyman DM, Solit DB, Boni V, Loi S, Baselga J, Berger MF, Montemurro F, Scaltriti M. Neratinib is effective in breast tumors bearing both amplification and mutation of ERBB2 (HER2). Sci Signal. 2018 Oct 9;11(551):eaat9773. doi: 10.1126/scisignal.aat9773. PMID: 30301790; PMCID: PMC6498841.