Steven Lewis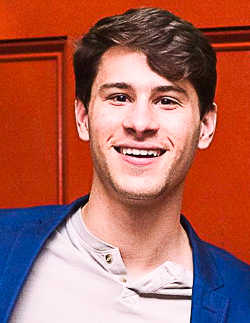 Education:
B.S. Yale University (2018)
Current Position:
2nd Year MSTP
2nd Year Medical Student
Advisor:
TBA
Graduate Program:
TBA
Research Interest:
I am interested in how the immune system, metabolism and gene regulation intersect to better understand, and hopefully treat, complex diseases like cancer and autoimmunity. My previous research includes in vivo studies of red blood cell transfusion rejection in a mouse model, in vitro investigation of the role of a transcription factor family in macrophages during differentiation and activation to lipopolysaccharide, modeling of a rare genetic neurologic disorder using patient-derived induced pluripotent stem cells, and in vitro and histological studies of the tryptophan pathway in psoriasis. When not in lab or thinking about biology, I enjoy biking, running, listening to music, reading, watching the Mets, Jets and Islanders and spending time with friends and family.
Publications:
Lewis, S.M., Strano-Paul, L.A. A COVID Service-Learning Initiative: Emotional Support Calls for the Geriatric Population. J Am Geriatr Soc. 2020 Dec 31. doi: 10.1111/jgs.17003.
Lewis, S.M. Williams, A. Eisenbarth, S.C. Structure and function of the immune system in the spleen. Sci Immunol. 2019 Mar 1;4(33).
Guemez-Gamboa, A....Lewis, S.M....Gleeson, J.G. Loss of protocadherin-12 leads to Diencephalic- Mesencephalic Junction Dysplasia syndrome. Ann Neurol. 2018 Nov;84(5):638-647.
Harden, J.L., Lewis, S.M. et al. The tryptophan metabolism enzyme L-kynureninase is a novel inflammatory factor in psoriasis and other inflammatory diseases. J Allergy Clin Immunol. 2016 Jun;137(6):1830-1840.
Harden, J.L., Lewis, S.M. et al. CARD14 expression in dermal endothelial cells in Psoriasis. PLoS One. 2014 Nov 4;9(11):e111255.