Trevor Van Brunt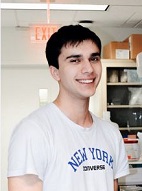 Education:
B.S. Stony Brook University (2019)
Advisor:
TBA
Graduate Program:
TBA
Research interest:
Briefly, I am interested in neuronal inflammation and its effects on the hippocampus at the synaptic and
circuit level. Specifically, my research has focused primarily on the disease Necrotizing Enterocolitis and
how changes in the gut-brain axis in premature children results in neuronal inflammation and
developmental delay. I use immunohistochemistry as well as electrophysiological techniques to help
determine what changes are occurring in the hippocampus due to neuronal inflammation. Additionally,
my previous research has focused on the effects of benzodiazepines such as midazolam on GABA
receptor dynamics.
Publications:
Baez A, Van Brunt T, Moody G, Wollmuth LP, Hsieh H. Voltage dependent allosteric
modulation of IPSCs by benzodiazepines. Brain Res. 2020 Jun 1;1736:146699. doi:
10.1016/j.brainres.2020.146699. Epub 2020 Feb 3. PMID: 32027866.