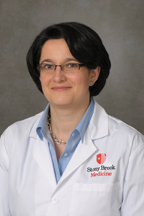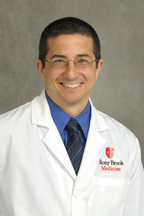 The Stony Brook Inpatient Consultation and Liaison Psychiatry Service is an active training service, staffed by three psychiatry attending physicians, two psychiatric nurses, residents and fellows rotating from psychiatry, neurology, geriatric psychiatry, family medicine and geriatric medicine, physician assistant students, and medical students from the Stony Brook University School of Medicine.
The rotation aims to provide fellows with expertise in clinical care, teaching and administration in Consultation and Liaison Psychiatry. The service provides psychiatric evaluation and management of approximately 1,800 unique patients each year throughout Stony Brook's 650 bed acute care inpatient hospital, including general and specialty medical and surgical floors, the medical intensive care and step down units, the neurosurgical trauma and surgical intensive care unit, the cardiac acute care unit, the cardiothoracic surgery care unit, and the burn unit.
During training on the Consultation and Liaison service, fellows will provide direct patient care, working with patients, their families and multidisciplinary primary teams, as well as supervise more junior trainees on the service, as they progressively assume the functions of a junior CL attending. Fellows will also have a leadership role in the organization of didactic activities on the service, including the journal club and weekly clinical case conference. Additionally, fellows will participate in CL service administrative processes, including our weekly CL staff meeting and hospital quality improvement initiatives aimed to improve patient care, such as our hospital delirium early identification and intervention initiative. From these experiences, we expect our graduating fellow will be well prepared for a position on an academic CL service or to lead a CL team of their own.