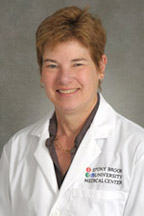 Judith Crowell, MD
Program Director
The Division of Child and Adolescent Psychiatry maintains an accredited two-year psychiatric fellowship with two fellows in each year. Our faculty also teaches residents and medical students from Renaissance School of Medicine at Stony Brook University and nurse trainees from the Stony Brook School of Nursing.
During their fellowship, fellows spend 6 months on the children's inpatient service, and 6 months rotating through several programs in the Board of Cooperative Educational Services elementary, junior high and high school. They begin to follow outpatients in the clinic. During their second year, fellows do a rotation on consultation liaison at Stony Brook Children's Hospital, as well as participating in comprehensive evaluations and taking on greater responsibility for outpatients. Elective time for scholarly activity is available in the second year.
For information about the Fellowship in Child and Adolescent Psychiatry contact Judith Crowell, MD or Kathy Grzymala at 631-632-8840.
Child and Adolescent Psychiatry Fellows
Tahsin Hasan, MD
Romil Sareen, MD
Shariful Syed, MD
Satya Vatti, MD
Read more about Child and Adolescent Psychiatry at Stony Brook.