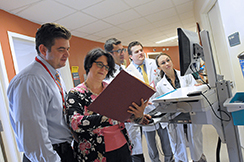 The Stony Brook Medicine Program in Collaborative Care for Hospital Medicine aims to improve the management and outcomes of co-morbid psychiatric symptoms through the full integration of psychiatric services on inpatient medicine units. The program strives to improve early case finding and intervention, and improves the coordination of inpatient medical and psychiatric care.
The psychiatry team consists of a psychiatrist/team leader, psychiatric nurse practitioner, and rotating fellows, residents and students. The team participates in daily interdisciplinary team rounds, and works closely with the range of healthcare providers on those units, including the hospitalists, nursing and social work staff.
Fellows participate in the role of a psychiatrist on one of the hospital medicine units, providing comprehensive consultations as well as less formal 'curbside' consultations to the interdisciplinary medical teams.