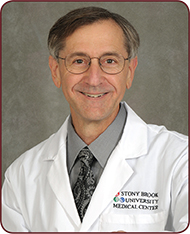 Dear Friends,
I am very pleased to report that Stony Brook Medicine is rising! Wonderful things are breaking out all over.
Joining our cadre of new Department Chairs, who include Vince Yang MD, PhD (Medicine), Dennis Choi MD, PhD (Neurology), Ramin Parsey MD, PhD (Psychiatry), Todd Griffin MD (Obstetrics/Gynecology), and Mark Schweitzer MD (Radiology), our new Deans, who include Lina Obeid MD (Research), Meenakshi Singh MD (Faculty Affairs) and Basil Rigas MD (Clinical Affairs), our new University Hospital CEO Rueven Pasternak MD, and our new Institute/Program Directors, who include Lisa Benz-Scott PhD (Public Health), Yusuf Hannun MD (Cancer Center), and James Taylor MD and Harold Fernandez MD (Heart Institute), are Mark Talamini MD, our new Chair of Surgery, and Joel Saltz MD, PhD, our new Chair of Biomedical Informatics. In fact, Joel's department is also new, designed to capitalize on the (extremely) big data generated from the medical histories, physical examinations, laboratory values, radiological scans and pathology specimens of the nearly 250,000 patients seen at Stony Brook Medicine every year. Each of our departments is also expanding our faculty ranks, to bring even more research, educational and clinical expertise to our campus.
I am also pleased to report that much work is underway on our efforts to reform our medical school curriculum. Thirteen "learning communities" are forming in the Fall, composed of (note: not led by) three faculty members, ten students from each class, and the shining spirit of medicine past, derived from the legendary physician for whom each community is named (e.g. Osler, Taussig, Cushing, Koch, Addison, Lister, Blackwell, Laennec, etc.). We are also making much progress on shifting the transition from completing preclinical coursework to beginning clinical clerkships, moving June back to March of Year Two, and creating educational translational pillars for the third and fourth years, designed to consolidate the biochemical/physiological/ immunological/anatomical/pharmacological basis of clinical conditions and their resolution.
In the realm of outstanding, patient centered, compassionate clinical care, we learned that Stony Brook Medicine scored 19 "Best Doctors in New York", an all-time high for us, and, for the second year in a row, the clinical quality of University Hospital was rated "A" by Leapfrog, one of the oldest and most extensive hospital quality evaluation websites in the United States.
And we continue to modernize our campus. Plans are on schedule for our hospital expansion and MART (Medicine and Research Translation) buildings, holding nearly 500,000 sq ft of new clinical, educational and research space, with construction scheduled to begin in October, and official ground-breaking in January. The hospital expansion will house Stony Brook Children's Hospital, a state of the art facility to care for our most vulnerable patients, as well as new "acuity adjustable beds" and intensive care units. In July, the Cancer Center took delivery of one of the very first in the nation simultaneous PET/MRI scanners, for both experimental and clinical use, which will be used in numerous cardiac, neuropsychiatric and cancer applications. The ribbon cutting ceremony is scheduled for October. And we will create 650 new parking spaces on campus; construction will begin this summer on two surface lots on the western and southern sides of the east campus power plant. As they say, "please pardon our dust", as the entrance to the hospital garage is re-oriented, to accommodate the two new surface lots and a new road that will connect to the new bed tower and MART building entrances.
---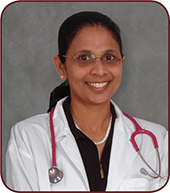 As we begin yet another cycle of new entering students, I am reflecting on the fact that this is my fourth year in this role at the School of Medicine. A lot has happened and is continuing to happen.
Looking back, three major things have happened:
Accreditation
First, as part of our LCME accreditation process, we did a real self-assessment and made significant changes to our curriculum and its administration. We have instituted systematic quality control processes and analyses to identify strengths and weaknesses pro-actively. We developed a full- fledged clinical campus at Winthrop University Hospital. Those efforts paid off and we have a fully accredited medical school. The accrediting body is not coming back until 2018. All of you will have graduated by then.
Student Feedback
Second, we decided to find out how the students were experiencing the school. We created more opportunities for them to tell us safely how things really were. Surveys, focus groups, and exit interviews are now part of our routine. And we listened. These are some of the changes that happened as a direct result of their feedback.
Some Changes Instituted
We instituted a weekly email TGIF (Timely General Information on Fridays) to enhance communication. Additionally, we do a quarterly newsletter, VIDYA, to provide students with the details of the educational changes and happenings at Stony Brook. We changed the grading system in the first two years. In the second year, we combined systems courses, reducing the number of exams and thereby the constant stress. We used customized and integrated NBME exams for all systems. We restructured the Pharmacology course to integrate within Systems. In the third year, we made sure that all students received mid clerkship feedback in all clerkships. We also allowed flexible electives, and made major changes to the fourth year. We eliminated unnecessary requirements, enhanced our Subinternships and added two new courses, Transition to Residency and Advanced Clinical Experience. In general, all of these changes have been favorably received by the student body.
Learning Environment
Third, we recognized that the learning environment of our students was not optimal. Our efforts to educate, inform and enforce our values of ICARE (Integrity, Compassion, Accountability, Respect and Excellence) resulted in the creation of the WESMILE program (We can Eliminate Student Mistreatment In the Learning Environment). We are happy to report that most recent data show that all of our students are aware of what our mistreatment policies are and how to report concerns. Our progress in this area is quite satisfying.
So What Is Going On Now?
We are changing our curriculum. Last December, the Curriculum Committee approved 14 guiding principles. The primary goal of the change is to focus on LEARNING, encouraging self-direction, integrated and active learning, as well as reflection and teamwork in medical practice. Seven subcommittees and approximately 100 faculty and students are involved in the discussions and deliberations so that we generate the best ideas for innovations in the new curriculum. The new curriculum will allow early entry into the clinical phase of training and contextual reinforcement of basic science concepts in the clinical years. The entering class of 2014 will experience the new curriculum.
Longitudinal Learning Communities: We have just started 13 learning communities in the school to provide our students with a more personalized way to connect with our faculty. Please see more on that in Dr. Fleit's column.
Academy of Clinical and Educational Scholars (ACES)
We are just beginning to create an Academy to recognize the creativity of our outstanding educators and to enhance scholarship and visibility among our educators. We expect a fully functioning academy by AY 2014-15. Thanks to the endowment from the family of a grateful student, this is now possible at Stony Brook.
Finally, I will be tweeting periodically important events that students should know about. We heard from the students that they wanted to get important news in less than 140 characters. We will try. Follow me at #drlathachandran.
---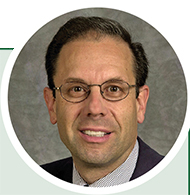 ---
The Scholarly Concentrations Program is a four-year track opportunity for medical students to engage in and attain recognition for scholarly pursuits in related areas of medicine. Under this Program, students have the opportunity to do academic exploration in Basic Sciences, Translational Research, Global Health, Medical Education, Social Science or Medical Humanities & Ethics. The program aims to align the areas of interest of students with the academic mission of the School providing a longitudinal area of work to the student experience at the School of Medicine. For many students, this period has been extremely helpful in shaping career goals and in building an academic track record attractive to residencies. The specific goals of the Scholarly Concentrations Program are:
To provide encouragement, impetus, and support for engaging in additional extracurricular scholarly pursuits aligned with one's own area of interest
To facilitate the attainment of valuable career experience in areas and projects related to medicine as a complement to students' didactic medical education.
To provide special recognition to students who engage in such scholarly pursuits and meet the standard requirements of the program.
A Research Day is held every year in the spring to give graduating students an opportunity to present the results of their research in an oral and/or poster presentation. A research award is given to an outstanding student chosen by the SCP committee as part of the graduation festivities. You can learn more about this program online at: http://medicine.stonybrookmedicine.edu/firstyearresources/mdscholar
---
---
A new site has become available to the Ob/Gyn clerkship. In addition to Stony Brook, Winthrop, and NUMC we now have the pleasure of announcing our new site, Southampton Hospital. For the academic year, 2013-14, the Ob/Gyn clerkship will have students at this site from July to December (3 Blocks). Students can spend their summer in the Hamptons while delivering babies! Students have the chance to work one on one with attendings during their Ob/Gyn clerkship while "gallivanting" around the Hamptons in their free time. The Fall is also beautiful in the Hamptons!
This location is a community hospital with dedicated faculty who are excited to teach Stony Brook students the art of Ob/Gyn. The staff has many years of expertise and have also experienced teaching osteopathic students who were rotating through there; but with our new agreement, Southampton Hospital is excited to align themselves with Stony Brook and the opportunity to teach Stony Brook students instead. Students will be working only with attendings in their office, the public clinic, and the hospital during the entire 8 weeks of the clerkship. The site director, Dr. Alamia, is a former resident of Stony Brook with a very successful practice. The GME office is very efficient and highly capable with years of experience with rotating students.
Housing is also available. The living units are single and double bedroom apartments. The double bedroom apartments have a shared, updated kitchen, bathroom and common living area. The apartments are air conditioned, fully furnished, and have internet and cable TV access. Laundry facilities are also available. The apartments are waterfront and the view is spectacular! They are located 9 miles from the hospital.
The Hamptons is a beautiful and very popular location on the east end of Long Island with surrounding beaches, the vineyards, and the LIRR available. The Orient Point ferry is nearby as well, in case students want to get to Connecticut, Massachusetts or Rhode Island. During the summer and fall, people flock to this end of the island for the beaches and the wineries.
If you are interested in applying for the Southampton Site for your Ob/Gyn clerkship, you will be able to request it as one of the possible sites when you register for year 3 clerkships.
Students who are spending July and August in their Ob/Gyn clerkship at Southampton have provided comments about their experiencs:
"Southampton has been a cool experiment so far….everyone at SHH is warm, friendly, and welcoming as well as receptive to our suggestions as to how to improve the OB/Gyn experience for SB students. Working around DO's offers a refreshingly comprehensive view of medicine of not only the patient, but the Hamptons community as a whole. Living on the bay 5 minutes from the ocean is also a beautiful experience!" — Michael R. Locher, MSIII
"Southampton is going pretty well. It's a nice little community hospital with a big emphasis on community. One particular thing I've noticed is that people around here do not pass each other in the hallway without saying hello. The main hospital building consists of just three floors, making it easy to find your way around….
"There is plenty of opportunity to do things when it gets busy as they do not have an OB/GYN residency, so the med student assists the attending directly. My first day there I assisted with a cesarean and pulled the placenta out of the uterus….
"They have us housed in a small complex in Hampton Bays, sitting right on the water with a view of the bay and Fire Island in the background. The view is very nice during the day and at night. There is a pool too. The building is occupied by other medical students and residents and is located in Hampton Bays, about 9 miles west of the hospital. The studio I live in is pretty nice, fully furnished, and the kitchen has a full oven and fridge. It takes about 20 minutes to drive to the hospital in the morning…." — Yevheniy Lider, MSIII
---
National Standardized Exams.
Our students consistently perform at or above the national average.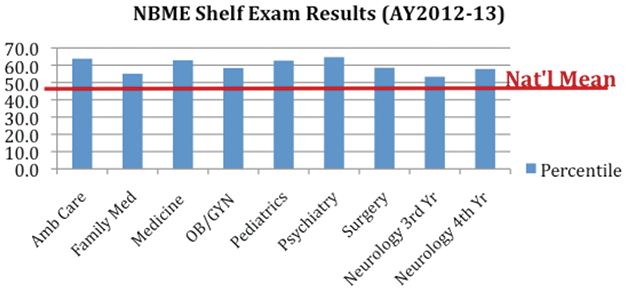 AAMC Medical School Graduation Questionaire.
Our graduates are satisfied with the quality of their medical education training.

---
---
---
---
CONGRATULATIONS to three of our first year medical students, Class of 2016, who received the McGraw-Hill Lange Award!

The award was given to students who excelled in their studies during the first year and were nominated by the faculty for their outstanding performance.

The students were:
Muntazim Mukit
Antonio Villamor
Dov Bechhofer

Our students are well represented on our School Committees. Feel free to talk to your committee representatives to find out what's going on regarding policy, curriculum, and other important committees. See if you can participate and help!

Committee on Academic Standing
Jay Chudow, Daniel Talmasov, Deirdre Connolly

Honor Code
Nick Schwartz, Debbie Lee, Ashwin Malhotra, Richard Efem, Justin Mathew, Jason Lai, Daniel Talmasov, Aditi Kanth, Gaurav Chandra, Danielle Sganga

Curriculum Committee
Alex Gauger, Arjun Iyer, Glenn Werneburg

Clinical Course Director's Committee
Caitlin Welch, David Reens

Student Finance Committee
oung Jin Kim, John Mattimore, Himanshu Sharma, Lisa Alpert, Wendy Leung

Pedagogy Review (CEWG)
Peiwen Chen, Arjun Iyer, Jason Lai, Kaveh Moghbeli, Himanshu Sharma, Caitlin Welch, Valerie Wong

Learning Communities
Renee Barlev, Jay Chudow, Michael Subrize, Sumaiya Iqba
---
---
---
---
---