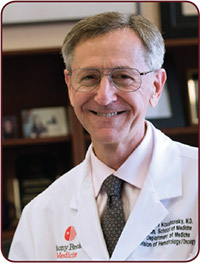 If it's mid-August, it must be the start of a new academic year. The start of the 2016-17 academic year ushers in a number of exciting enhancements to our curriculum and our teaching and learning spaces. The year kicks off with the arrival of our newest students, members of the Class of 2020, and the launch of our mobile Medicine Education (mMedEd) initiative. mMedEd uses an iPad platform to deliver course materials and learning resources directly to students' iPad Home screen; it supports interactive teaching and learning activities; provides on the go access to learning tools, reference materials and productivity apps; allows access and interactions with the electronic medical record; supports a campus-wide sustainability initiative to reduce copy and paper costs; and provides a platform for innovation in medical education. Members of the Class of 2020 are the first to receive iPads upon entering the Stony Brook SOM.
Other exciting enhancements include renovations to the HSC Library, expansion of the Clinical and Surgical Skills Centers, and a new Medical Student Lounge. Space in the library has been reconfigured to support mMedEd and collaborative small-group learning. A new retractable wall between the two computer classrooms allows for an open configuration that can seat 140 students. The library classrooms also received technology upgrades that include classroom audio/video, small-group areas with shared monitors, and a test-taking area for students with testing accommodations.
The current Clinical Simulation Center (CSC) is approximately 6.000 square feet and consists of 10 patient exam rooms and 2 simulation labs. The adjacent Surgical Skills Center (SSC) offers an additional 1,800 square feet of space. The CSC/SSC uses simulation technology and state-of-the-art medical technologies to support the education, training, and evaluation of students and healthcare professionals. Current plans for expansion of the CSC/SSC include an increase in the number of available exam rooms, simulation rooms, debriefing rooms and task training areas. This will allow for the growth of simulation training into many areas of health care. In conjunction with the expansion of the CSC/SSC and reconfiguration of the space on the second level of the HSC, students will enjoy a new medical student lounge.
A new academic year, a new class of students, numerous new technologies, and new spaces. It is indeed, an exciting time for our School of Medicine community. I cannot think of a better start to the careers of 132 extremely talented individuals, who will soon earn the privilege and honor of being called doctor.
---
---
For the First Time!!!
Our overall student satisfaction is Above the National Average!!
(Source: 2016 Association of American Medical Colleges Graduation Questionnaire)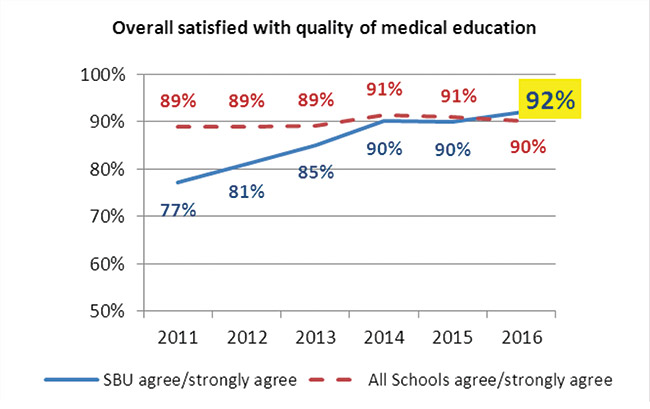 National Standardized Exams.
Our students consistently perform at or above the national average.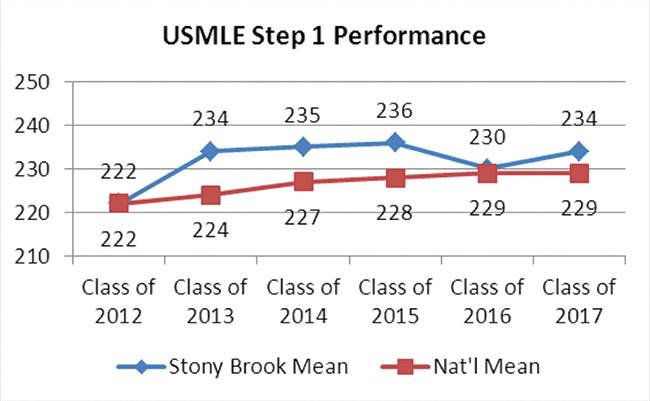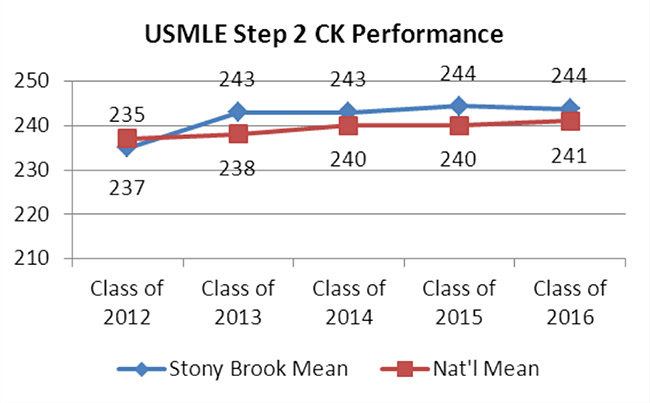 ---
---

Stony Brook School of Medicine has a long-standing tradition of recognizing faculty excellence. This year's candidates capture and reflect Stony Brook's FAR BEYOND strategy and ethos – a driven, imaginative community, relentlessly pursuing excellence and tomorrow's big ideas – doing far beyond the expected.
This year's selection committees had before them a large number of qualified nominees – a terrific sign of a robust organization with talented and committed faculty. The decision for each award was a very difficult one, and all of the candidates should feel honored to have been nominated by their colleagues.
So it is with great pleasure that we announce the recipients of the 2016 Stony Brook SOM Faculty Awards:
Aesculapius Award for Excellence in Medical Education — This award is given to recognize teaching excellence and scholarship across the continuum of teaching. This year's recipient is Daniel M. Barlev, MD, MS, Clinical Associate Professor of Radiology and the Director of Pediatric Radiology at Winthrop-University Hospital. His nominator noted that Dr. Barlev is an "outstanding educator in all domains sought by [this] Committee" as evidenced by "[h]is commitment to Stony Brook ... and as reflected in his devotion to educational activities ... his dedicated work on the admissions committee for the SOM, and numerous committees associated with the LEARN curriculum."
Excellence in Clinical Care Award — Anupama Chawla, MD, is the recipient of our 2016 Excellence in Clinical Care Award. She is the Chief, Division of Pediatric Gastroenterology and Nutrition and a Clinical Professor in the Department of Pediatrics. As her department chair noted, "Her reputation for dedication to the clinical education of trainees and practitioners near and far is superb because she is just that outstanding, and she oversees clinical care, program development, education and research with the core perspective that a) the patient always comes first, and b) patient-relevant problems are valuable to study in careful clinical research."
Excellence in Faculty Mentorship — Barbara Nemesure, PhD, is the recipient of our Excellence in Faculty Mentorship Award. She is a Professor in the Department of Family, Population & Preventive Medicine and the Director of the Cancer Prevention and Control Program for the Stony Brook Cancer Center, where she also serves as the Director of the Center's Lung Cancer Program. Her nominator noted that "what makes Dr. Nemesure's mentorship unique is that she has worked well with a vast and diverse group of mentees – including junior faculty, residents and students – and from a variety of education backgrounds . . . she has unreservedly given her time, knowledge and encouragement to more than 45 mentees throughout her academic career, with some mentoring relationships lasting decades."
Excellence in Senior Research Award — is presented to Orlando D. Schärer, PhD, a Professor, jointly, in the Departments of Pharmacological Sciences and Chemistry, and an internationally recognized researcher in the field of DNA damage, DNA repair, and cancer. In addition to his impressive research accomplishments, Dr. Schärer has served as an organizer for varied national and international scientific meetings and a reviewer for numerous NIH study sections and other funding agencies. His department chair has described him as "one of our star investigators" ... and noted that he has had "many roles in service at the institution, and has been and excellent and committed educator to our ... students ..."
Excellence in Early Career Research Award — This year's recipient is Markus Seeliger, PhD, Assistant Professor in the Department of Pharmacological Sciences. His department chair noted that "on top of [his] notable research success, Dr. Seeliger has become an exceptional and extraordinary member of the academic community, starting new courses for both MSTP and the Laufer Center, being deeply engaged in science communication courses at the Alan Alda Center for Communicating Science (AACCS), and being the first PhD participant in the Leaders in Medical Education program here."
Citizenship and Leadership Awards — We wish to also recognize and congratulate Mary Kritzer, PhD and Howard B. Fleit, PhD, who were awarded the Citizenship and Leadership Awards, respectively, by Dean Kaushansky earlier this year at the First Annual Medical Education Day in recognition of their invaluable contributions to the School of Medicine as we fully transition to our LEARN curriculum
2016 Clerkship Director Teaching Award by the American Academy of Neurology — Congratulations to Cara E. Harth, MD, FAAN, Associate Professor of Neurology, Program Director of the Neurology Residency Program, and Director of the Neurology Clerkship on being the recipient of the 2016 Clerkship Director Teaching Award by the American Academy of Neurology. She was presented with the award at the Faculty and Trainee Reception on Saturday, April 16, 2016 during the AAN Annual Meeting in Vancouver, British Columbia, Canada.
We thank all of them for their valuable contributions and commitment to the Stony Brook School of Medicine.
---
---
---
MD/PhD: Stony Brook University, in conjunction with Cold Spring Harbor Laboratory and Brookhaven National Laboratory, sponsors a medical scientist training program (MSTP) leading to both the MD and PhD degrees. The purpose of the MSTP, partially funded by a competitive grant from the National Institutes of Health, is to train academic medical scientists for both research and teaching in medical schools and research institutions. Graduates of this program are equipped to study major medical problems at the basic level, and at the same time, to recognize the clinical significance of their http://www.pharm.stonybrook.edu/mstp.
MD/MBA: For the MD/MBA, the students apply to the School of Medicine and indicate that they are interested in the MBA program. They are accepted to the School of Medicine first, followed by acceptance to the School of Business. The MBA is 48 credits consisting of 16 courses. Students can take most of the MBA before starting medical school or after completing their medical degree. Some students opt to take a year off from medical school to complete the bulk of their MBA courses. Ethics and Law, and an Industry Project offer credit in both the MD and MBA programs. You can find more information at this website: http://www.stonybrook.edu/commcms/business/academics/graduate-program/combined-masters/mdmba.html.
MD/MPH: The MPH Program advocates a population health approach to public health. The hallmarks of population health are an ecological understanding of the determinants of health and a systems approach to solving health problems; emphasis on proactively stabilizing and improving health among all populations; and insistence on accountability, evidence-based practice, and continuous performance improvement." The program focuses on developing public health leaders who will make an impact on society. You can find more information at this website: hhttp://publichealth.stonybrookmedicine.edu/academics/degreeoptions/grad/md.
MD/MA: The Center for Medical Humanities, Compassionate Care, and Bioethics offers, on a selective basis, the opportunity for up to 2 medical students a year to participate in our joint MD/MA program. In addition to their coursework, these students enroll in the Scholarly Concentrations Program and take 18 credits from our MA program in Medical Humanities, Compassionate Care and Bioethics to receive a joint MD/MA upon graduation. Medical students wishing to enroll in this program should contact Michael Ortega (Michael.Ortega@stonybrookmedicine.edu) for details about how to apply. You can find more information at this website: http://www.stonybrook.edu/bioethics/medicaleducation.shtml.
---
---

School of Medicine – Committee on Admissions
WELCOME — CLASS ENTERING 2016
The Committee on Admissions is proud to introduce the 2016 entering class — our 45th entering class at Stony Brook School of Medicine! The Admissions Office received 5,057 applications and 783 applicants were interviewed by members of our Committee on Admissions. We made 419 offers to fill our class size of 132. 78% of the class are New York State residents and 22% are out of staters which includes 3 international students. The male to female ratio is nearing parity (51.5% Male, 48.5% Female). The number of students with advanced degrees is 16 in total, including 1 PhD and 1 Doctor of Pharmacy. The average total MCAT percentile is 86%. The science and total GPA remains strong at 3.70. Students majored in many fields of study, 80% in the sciences. They also attended 70 different schools (listed below) and include many of the finest universities in this country.
UNDERGRADUATE SCHOOL BREAKDOWN
The following schools have one acceptance:
Bates College, Boston College, Boston University, Brandeis University, Brigham Young University, Brown University, Bucknell University, Case Western Reserve University, CUNY – Staten Island, CUNY – Queens College, CUNY – Hunter College, George Washington University, Hamilton College, Harvard University, Hobart and William Smith Colleges, Indiana University of Pennsylvania, LeMoyne College, Massachusetts Institute of Technology, McGill University, Miami University-Ohio, Middlebury College, Mount Saint Mary College, Nankai University-China, NY Institute of Technology, Northwestern University, Princeton University, Providence College, Rice University, Seton Hall University, Skidmore College, Stanford University, SUNY – Farmingdale, Syracuse University, University of Bridgeport, University of California – Davis, University of California – Irvine, University of California – Santa Cruz, University of Florida, University of Miami, University of Michigan-Ann Arbor, University of Minnesota, University of Pittsburgh, University of Richmond, University of Southern California, University of Virginia, Vanderbilt University, Wheaton College, York University-Canada
TOTAL SCHOOLS REPRESENTED: 70
We all look forward to welcoming the 2016 entering class to Stony Brook and wish everyone all the best in medical school.
Sincerely,
Jack Fuhrer, MD
Associate Dean for Admissions
---
June 26 marked the end of the third year that the interprofessional course titled "Working Together: Interprofessional Conversations on Cultural Diversity" has been offered to students in the Schools of Nursing, Medicine and a new addition this year the School of Social Welfare. This elective course was originally created and developed based on a Presidential Mini Grant awarded in 2013 to Drs. Lee Xippolitos, PhD, RN, the Dean of the School of Nursing and Latha Chandran, MD, MPH, the Vice Dean of the School of Medicine. Since its inception in June, 2014 a total of 21 medical students, 29 registered nursing students and 1 social welfare student have participated in this 2-week elective. The overall goals of this course is to provide healthcare trainees the opportunity to: (a) Engage self and others to constructively manage disagreements about values, roles, goals, and actions that arise among healthcare professionals, (b) Reflect on individual and team performance for individual, as well as team, performance improvement, (c) Embrace the cultural diversity and individual differences that characterize patients, populations, and the health care team, and (d) Respect the unique cultures, values, roles/ responsibilities, and expertise of other health professions. Working in interprofessional teams from day 1, students attend four onsite face-to-face sessions including one day in the Clinical Skills Center that cover topics such as: (1) The Significance of the Interprofessional Team and Healthcare Disparities, (2) Interprofessional Communication, (3) Cultural Competency and Conflict Resolution, and (4) Interprofessional Patient Safety and Quality Care. In between sessions, students are expected to complete pre-assigned readings and write self and group reflections online. Feedback from students have been positive one student commented "Just the concept of getting medical students and nurses interacting and working together as early as possible. It's great hearing opinions from people in other disciplines and it was a very eye opening experience. If I am successful at becoming a doctor that works well with nurses and the rest of the healthcare team, this course is probably the biggest reason." Next steps to promote interprofessional learning are currently underway as the Deans and key faculty from the health sciences schools (School of Medicine, Dentistry, Nursing, Social Welfare, Health Technology and Management) met for the first time in May, 2016 and will continue to meet regularly on a monthly basis to begin the planning of systematic and formal interprofessional experiences across the five schools which hopefully will start as early as fall of 2016.
---
The Rising Leaders in Health Care is a ten-week elective that runs from mid-September to mid-December. The core goals of this elective are to: Gain real-world, applicable skills; enhance professional networks; build community relationships; expand cultural awareness; evaluate healthcare industry efficiency and effectiveness; and ultimately improve the quality of patient care. Students are required to work in teams to develop a project that addresses any of the themes presented in the course. To register, please complete a Drop/Add form and submit the form to Bonnie Chalson. The primary course contact is Richard Iuli, PhD Richard.iuli@stonybrookmedicine.edu
---

TGIF: Read your TGIF emails from the UME office every Friday. Get news, important scheduling information, research and elective opportunities, etc.
Student Activities in 2015-17:
iPad Initiative Roll-Out — Class of 2020
August 9
Transition to Medical & Dental School
August 10-19
Class of 2020 BBQ at Dean and Mrs. Kaushanky's
August 12
White Coat Ceremony
August 14
Careers in Medicine
November 7
Scholarly Concentrations Info Session
December 2
Asian Extravaganza
December 9
Match Day
March 17
Research Day-SCP presentations
April 26
Class of 2016 Commencement
May 18
Evening of Arts
To be determined
Global Medicine Info Session
To be determined
Hispanic Heritage Event
To be determined
Pot Luck Dinner
To be determined
Also check the School's Academic Calendar at:
https://cbase.som.sunysb.edu/conet/calendar/stud_mainFrame.cfm?school=Medicine
---
SPECIALTIES:
SITES:
---
---