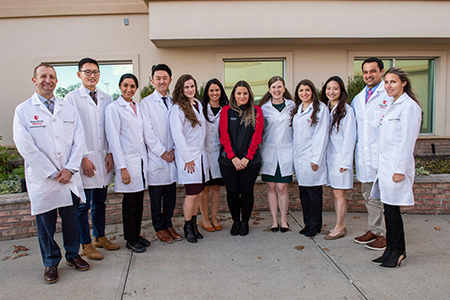 Welcome to the Department of Dermatology at Stony Brook.  Our faculty has a wide range of basic science and clinical interests and is committed to giving you a comprehensive educational experience in dermatology.  What follows is a conceptual overview of the training program.
The resident training program in dermatology is designed to provide a broad-based experience with emphasis on the acquisition and development of clinical, surgical, teaching and research skills.  Graduates of the Department of Dermatology at Stony Brook Hospital should be able to pursue successful careers in academic dermatology, private practice, and or/sub-specialty care (dermatologic surgery, dermatopathology, pediatric dermatology, and cosmetic dermatology).  
The first year is devoted to the acquisition of clinical dermatology skills through participation in faculty-supervised dermatology clinics at University Hospital and the VA Medical Center as well as weekly teaching conferences.  During this time, the resident is expected to learn the structure and function of the skin, clinical manifestations of pediatric and adult skin diseases, dermatopathology, and basic principles of dermato-pharmacology. First year residents are also introduced to dermatologic surgery, Mohs surgery, cosmetic dermatology and laser surgery.
The second year is composed of surgical and clinical dermatology rotations.  During one block the resident will gain advanced surgical skills through an intensive rotation in dermatologic surgery in addition to a rotation through pigmented lesion clinics at Memorial Sloan Kettering. The second block is at the VAMC-Northport where the resident will provide continuity of care in general dermatology and phototherapy clinics, develop further surgical skills and function as consultant for ER and hospitalized patients. 
The third year is dedicated to assuming greater responsibility for patient care and includes attaining skills as a consultant dermatologist, teacher and administrator.  The year is divided into two rotations: Chief Resident/Hospital Consultation Service and Out Patient Junior Attending/Subspecialty Clinics.  The Chief Resident is responsible for seeing all inpatient Dermatology consultations at University Hospital.  Subspecialty clinics include surgical continuity clinic, pediatric dermatology, ulcers, bullous diseases, phototherapy and student health clinics to name a few.  The out patient junior attending is also responsible for the supervision and teaching of dermatology residents, non-dermatology residents, and students thus develops advanced teaching and communication skills. 
Jordan B. Slutsky, MD FAAD FACMS
Director
TEACHING AND LEARNING EXPERIENCES
Formal Lecture Series
The didactic lecture series provides residents with an opportunity to learn dermatology through basic science and clinical lectures, Grand Rounds, Kodachromes; dermatopathology slides sessions, journal club and hands-on cosmetic dermatology sessions.  This series consists of over 50 hours of interactive learning experiences each year, and is taught by faculty members in the Department of Dermatology as well as guest lecturers. 
Conferences and Meetings
Stony Brook Dermatology Residents Regularly Attend The Following Conferences: 
American Academy of Dermatology annual meeting (second year residents cover consults during this meeting and therefore are offered a stipend to attend another meeting of equal or lesser duration)
American Academy of Dermatology summer meeting when held in New York City
NYU Advances in Dermatology- https://med.nyu.edu/dermatology/education/events-conferences/advances-dermatology
The Memorial Sloan Kettering Cancer Center Dermoscopy Course- https://mskcc.cloud-cme.com/default.aspx?P=0&EID=20512
Long Island Dermatological Society-http://www.longislanddermatologists.org/default.asp?id=216
The department encourages and supports our residents to present at local and national meetings and one travel grant is provided during each year of residency. 
Elective Time
First year dermatology residents may elect to partake in an intramural elective in one of the following fields: plastic surgery, oculoplastic surgery, vascular surgery, rheumatology, pathology, etc. 
Second and third year dermatology residents are provided with elective time to pursue extramural electives in Dermatology that offer a unique experience from Stony Brook, designed to focus on a specific area(s) of interest.