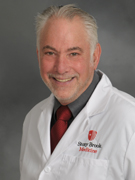 Avram R. Gold, MD
Associate Professor of Clinical Medicine
Director, Sleep Medicine Fellowship
---
Dr. Gold is an Associate Professor of Clinical Medicine at Stony Brook University. He received his bachelor's degree in biology at New York University's University College of Arts and Sciences in 1975 and his medical degree from SUNY-Downstate in 1979. After completing a three-year medical residency at Maimonides Medical Center (Brooklyn, NY) in 1982, he completed a four-year fellowship in pulmonary medicine at Johns Hopkins University in 1986.
During his pulmonary fellowship, Dr. Gold became the first post-doctoral fellow to train at the Johns Hopkins Sleep Disorders Center; clinical and research training that resulted in six publications (three, first author). Since 1987, he has been at Stony Brook University as a member of the Pulmonary/Critical Care/Sleep Medicine Division of the Department of Medicine. In 1990, Dr. Gold founded the Northport DVA Sleep laboratory, one of the first sleep laboratories in the VA healthcare system, which he directed until 2006. Since 2010, Dr. Gold has been Medical Director of the SBU Sleep Disorders Center. In 2004, Dr. Gold became program director of the polysomnography program in the Stony Brook University School of Health Technology and Management, one of the first programs in the United States providing university-level training for polysomnographic technologists. He has been program director of the Sleep Medicine fellowship since 2007.
Dr. Gold's early research, focused on inspiratory airflow dynamics in the upper airway during sleep, coupled with his clinical work in the sleep medicine led him to recognize subtle sleep disordered breathing in a variety of illnesses where its presence was not previously acknowledged. As a result, he has published pioneering studies of inspiratory airflow dynamics during sleep in upper airway resistance syndrome, fibromyalgia, irritable bowel syndrome, Gulf War illness and major depressive disorder. To intervene clinically in these difficult-to-manage illnesses, Dr. Gold has introduced rapid palatal expansion and maxillomandibular advancement as early, curative interventions for young people treated for obstructive sleep apnea at the SBU Sleep Disorders Center and he remains actively involved in documenting the outcomes of these treatments. Because of his pioneering work on the manifestations of subtle sleep disordered breathing, Dr. Gold was chosen to co-author the chapter on snoring and pathologic upper airway resistance syndromes for the sixth edition of Principles and Practice of Sleep Medicine.
In May 2019, the 40th anniversary of his graduation from medical school, The Alumni Association of Downstate Medical School awarded Dr. Gold its Master Teacher Award in Pulmonology, a tribute to his pioneering approach to the practice of sleep medicine.