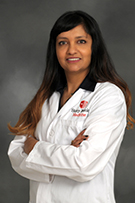 Sahar Ahmad, M.D.
Chief, Division of Pulmonary, Critical Care and Sleep Medicine
Director of Ultrasound & Critical Care Education
Associate Professor of Medicine
Director, Medical Intensive Care Unit
Program Director, Pulmonary and Critical Care Fellowship

Welcome to Stony Brook Medicine's Pulmonary and Critical Care Fellowship program! 
Our fellowship is a well rounded, dynamic clinical education three year training program with 15 active pulmonary critical care fellows.   Stony Brook University Hospital (SBUH) is the only tertiary care center in Suffolk County, Long Island and serves as the home base for our fellowship. Our fellows also rotate through the Northport Veterans Hospital.  The three year training program is structured with our first and third years being our main clinical years and the second year is focused on research. 
Educational Experience
Your time as a fellow will begin with a robust boot camp training period This allows everyone to start with uniform comprehensive point of care ultrasound training experience . There are hands on procedural skills sessions covering all the core pulmonary / critical care   procedures as well as didactic sessions on core topics such as ventilatory management, pulmonary function test interpretations and   airway disease. Throughout the summer we continue with core topics in our biweekly Summer Series. 
During the academic year we have recurring conferences including weekly Pulmonary grand rounds, pulmonary radiology case   conference, multidisciplinary tumor board, medicine grand rounds. We have weekly fellows workshops that alternate between   pulmonary  function test physiology, ultrasound and procedure skills workshops. Fellows have the opportunity to given mentored talks for physiology conferences, ultrasound conferences, journal clubs and research conferences. 
In addition to being taught, our fellows are involved in numerous teaching experiences including ultrasound courses, simulation experiences and small group sessions with our Stony Brook medical students!
Clinical Experience
Our core services at SBUH include our Medical ICU, Critical Care Triage Consults, Inpatient Pulmonary Service, Procedure / Bronchoscopy Service and the night float service. We offer electives in Neuro Critical Care, Cardiothoracic ICU, Surgical ICU and advanced Ultrasound. Our outpatient Faculty practices include opportunities to rotate with subspecialty clinics at our Pulmonary Hypertension Center, Interstitial Lung Disease Center and Asthma Airways Clinic. At the Stony Brook Cancer Center fellows have the opportunity to work with a multidisciplinary team that includes Interventional Pulmonary, Thoracic Surgery and Oncology.  At the Northport VA which serves Long Islands Veterans there is a robust outpatient practice, inpatient pulmonary with bronchoscopy as well as a mixed medical surgical intensive care unit.
We have fellows continuity clinics located at both Stony Brook and Northport VA.
Research Experience
Our second year has dedicated research time. Our fellows are paired with known productive mentors and have numerous publication in areas of aerosol medicine, clinical ultrasound use, education, cardiac arrest. Research fellows present their work at our internal research conference, the Lung Club and at national conferences like ATS and CHEST.
Stony Brook Experience
We are located in a beautiful suburban location with easy access to many beaches, vineyards, farms and yet just about an hour away from New York City! Many of our fellows live in nearby East Setauket, Stony Brook, Port Jefferson, Islip or Huntington. For those with kids there is a wonderful daycare available at Stony Brook Child Care Services on the University Campus and the area in known for high quality public schools. Some of our Pulmonary events include annual Forth of July barbecue / basketball tournament, Holiday White Elephant Gift exchange and Graduation parties. 
Post fellowship our fellows have taken on faculty position at academic institutions (including our own!), joined private practices and gone on to other fellowships including sleep medicine and interventional pulmonary. We have an excellent pulmonary and critical care board pass rate and some fellows are also opting to take the new critical care echocardiography boards. Our current fellows and faculty can be found on our website.
Thank you for visiting our page and learning about our Pulmonary Critical Care Fellowship!