Dr. Sahar Ahmad, a practicing Critical Care and Pulmonary Medicine specialist in the Stony Brook Division of Pulmonary Medicine, has research expertise which spans clinical and educational research.  In the field of clinical research, she has publications and ongoing research related to bedside ultrasound, including work in the topics of:  Echocardiography;  and Ultrasound for diaphragm dysfunction and pleural disease.  Dr. Ahmad is also an expert on cardiac arrest and resuscitation, and co- directs the Resuscitation Research Lab in her Division.  In the realm of educational research, Dr. Ahmad has publications and ongoing studies in topics of ultrasound education and simulation education.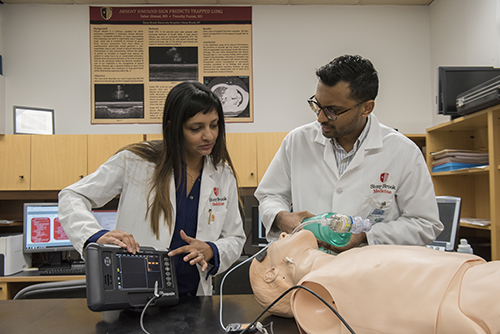 ---
Dr. Ahmad's current research is in clinical ultrasound applications,  critical care ultrasound, cardiac arrest,  simulation medicine, and ultrasound education.  A selection of peer reviewed publications and ongoing work is provided below: 
Educational Research: 
Pakzad N, Flora BK, Ahmad S.  The Utility of Teaching Bedside Ultrasound to Internal Medicine Residents.  Med Sci Educ. 2017. 27(2): 189-191. 
Fryman C, Fei A, Mehta R, Ahmad S.  Jigsaw Method for Non-technical Skills in Cardiac Arrest: a Novel Application of This Active Learning Pedagogy.  Med Sci Educ. 2018. 28(2): 401-405. 
Borodyanskiy A, Timko- Swaim L, Ahmad S.  Effectiveness of a Brief Course in Bedside Ultrasound for Physician Assistant Students.  J Physician Assist Educ. 2019.  30(1):72-75.  [PMID: 30801560]. 
Richman P, Ahmad S, Olvet D and L Chandran.  Use of student feedback to drive quality improvement (QI) in a pre-clinical U.S. medical school course.  Medical Education Online.  2019.  24(1): 1583968. doi: 10.1080/10872981.2019.1583968. [PMID: 30810513]. 
Clinical Research: 
O'Hara DN, Chabra V, Ahmad S.  Bedside Ultrasound for Guiding Fluid Removal in Patients with Pulmonary Edema: The Reverse-FALLS Protocol.  J Vis Exp. 2018 Jul 28; (137). [PMID: 30102272].   
Delaney M, Flora BK, Ahmad S.  Focused Sonography in Cardiac Arrest.  In:  Resuscitation Aspects.  Theodoros Aslanidis, ed.  2017.  [ISBN 978-953-51-5457-0].
Shah R, Spiegel R, Lu C, Crnosija I, Ahmad S.  Relationship Between the Subcostal and Right Lateral Ultrasound Views of Inferior Vena Cava Collapse: Implications for Clinical Use of Ultrasonography.  CHEST. 2018. 153(4):939-945.  [PMID: 29032036].   
Flora BK, Granati G, Patel J, Ahmad S.  A previously healthy male in his 30s with worsening shortness of breath over five days.  CHEST Ultrasound Corner.  2017; 152(3):e65-67.  [PMID 28889898]. 
Patail H, Wong A, Ahmad S.   Reply: Is The Finding of an Absent "Sinusoid Sign" on Lung Ultrasound Meaningful?  Ann Am Thorac Soc. 2019. 16(8): 1076.  [PMID: 31100012]. 
Wong A, Patail H, Ahmad S.  The Absent Sinusoid Sign.  Ann Am Thorac Soc.  2019.  16(4): 506-508.  [PMID: 30932704]. 
O'Hara DN, Pavlov A, Taub E, Ahmad S.  Ultrasonographic modeling of diaphragm function: A novel approach to respiratory assessment. PLoS One. 2020 Mar 12;15(3):e0229972. doi: 10.1371/journal.pone.0229972. [PMID: 32163474]. 
Tolia VJ, O'Hara DN, Ullah KI, Ahmad S. Response: Shifting Gas Sign: Making the Diagnosis of Pneumoperitoneum More Secure.  2020 Apr;157(4):1044-1045.  [PMID: 32252913]. 
Dufurrena Q, Ullah KI, Taub E, Leszczuk C, Ahmad S. Feasibility and Clinical Implications of Remotely Guided Ultrasound Examinations. Aerosp Med Hum Perform. 2020;91(7):592-596. doi:10.3357/AMHP.5527.2020.  [PMID: 32591036]. 
Patel KM, Patel RB, Ahmad S.  Barrier techniques to reduce aerosolization during extubation. Crit Care Explor. 2020 Jul; 2(7): e0160.  [PMID: 32766557]. 
Paroya AA, Patel KM, Ahmad S.  Barrier techniques to reduce aerosolization during cardiopulmonary resuscitation.  Crit Care Explor. 2020 Jul; 2(7): e0161.  [PMID: 32766558].   
Patel KM, Ullah K, Patail H, Ahmad S.  Ultrasound for Pleural Disease: Beyond a Pocket of Pleural Fluid.  Ann Am Thorac Soc. 2020. doi: 10.1513/AnnalsATS.202008-948CME. Online ahead of print.  (In Press).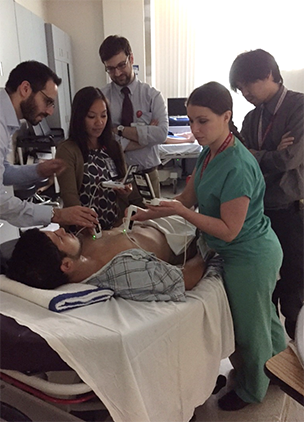 Learn more:
Promotion of Sahar Ahmad to Associate Professor with Tenure