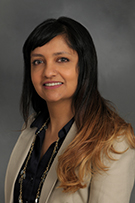 The Department of Medicine is thrilled to announce the promotion of Sahar Ahmad, M.D.,   to Associate Professor of Medicine with tenure.
 Dr. Ahmad is a well-respected faculty member of The Department of Medicine, and the Director   of Ultrasound & Critical Care Education at Stony Brook University.
 She received her Artium Baccalaureatus degree from Vassar College in 2000 and Doctorate   of Medicine  from Cornell Medical in 2004. She received her clinical training at North Shore University   Hospital in N.Y., and Robert Wood Johnson University Hospital in N.J., subsequently   completing Pulmonary  and Critical Care fellowship training at the Albert Einstein
 College of Medicine/ Montefiore Medical Center, Bronx, N.Y., in 2013.
In July of 2013 she joined as a faculty member of the Pulmonary, Critical Care and Sleep Division, Department of Medicine.
Presently, she is heavily involved in the education of Internal Medicine and Critical Care physicians as the Director of Ultrasound & Critical Care Education for the Division of Pulmonary and Critical Care Medicine, and serves as the Director of the Simulation program for Department of Medicine.
Dr. Ahmad teaches bedside Ultrasound and Echocardiography at the Medical Student, Resident and Fellow levels, and performs emergent bedside ultrasound and echocardiography for the Cardiac Arrest Program, and her current research is in clinical pulmonary ultrasound, clinical critical care ultrasound, simulation medicine, and ultrasound education. 
Dr. Ahmad has formal education roles within the Stony Brook institution at both the undergraduate and graduate medical education levels, serving as the School of Medicine's Course Director for the Integrated Ultrasound Curriculum. Outside of Stony Brook, she teaches bedside pulmonary and critical care ultrasound at the regional and national levels.
Dr. Ahmad actively practices at University Hospital as a specialist in Pulmonary and Critical Care Medicine. Please join us in congratulating Dr. Ahmad on this very distinguished and well-deserved honor.